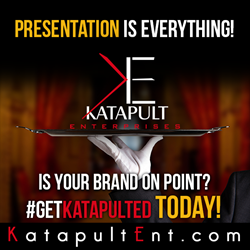 "Your brand is the single most important investment you can make in your business." Steve Forbes
New York, NY (PRWEB) July 17, 2015
Katapult Enterprises, a company offering VIP Branding, confidential life coaching to celebrities and International life coach certification, is constantly staying on the cutting edge in order to deliver exceptional service to their high profile clientele. This determination partnered with the knowledge that any brand's most powerful weapon or greatest downfall is the internet, has enabled Katapult to overdeliver time and time again. Because of the increased demand of customized packages for their clients, Katapult now announces 2 additional "Get Katapulted" packages available, "Elite" and "Ultimate Social Currency". With a solid core team and many key partnerships of branding experts, web developers, graphic artists, SEO specialists and social media managers, clients can rest assured they are in more than capable hands.
The fact is, when someone is looking for a service, a product, a store, an event, etc., they are almost guaranteed to look it up on their smartphone. Because of this massive exposure available, online presence will either make or break a brand.
Even leaders in business and entertainment would agree:
"Your brand is the single most important investment you can make in your business." -Steve Forbes
"Your brand is what other people say about you when you're not in the room." -Jeff Bezos, CEO & Founder Amazon
"The most powerful and enduring brands are built from the heart." -Henry Schultz, CEO Starbucks
"Your premium brand had better be delivering something special, or it's not going to get the business." -Warren Buffett
So whether you're a mom & pop restaurant, a successful entrepreneur or the CEO of a Fortune 500 company, allocating your advertising budget to your online presence is a vital part of any business strategy.
Katapult Enterprises provides everything needed to revamp your image or start fresh including stunning, easy to use website design, confidential coaching, development of social media and marketing management, and so much more! Whether in need of an overhaul or just looking to give your brand the launch it deserves, check out Katapult's options for full service branding solutions. Consulting Katapult Enterprises will be the best thing you ever do for your business and your career.
To check out the packages Katapult provides, visit http://katapultent.com/getkatapulted
If you do not see a package that fits your criteria, Katapult customizes packages for specific needs and budgets.