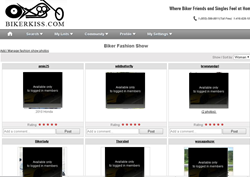 (PRWEB) July 20, 2015
Recently, the famed leading biker dating website, BikerKiss.com, launched a new feature named "Biker Fashion Show," which will absolutely gain the attention of single motorcycle riders.
A spokesman of BikerKiss.com made a short speech: "BikerKiss.com has tried everything to improve the user experience. And this time we successfully launched one more unique feature named Biker Fashion Show. It is aimed to provide an ideal place for bikers to show their pictures with bikes for free, which is another great way to increase the exposure of our dear biker members. "
What's interesting about this new feature is that other bikers can rate you based on the pictures you posted and can also leave a comment. So, before posting your photos on Biker Fashion Show, ask someone else near you to help you decide whether you should post them. The higher your rating is, the more single bikers will come to you.
BikerKiss.com started in 2001 and has led a massive of biker singles to dates, relationships and marriages, which is much more than other biker dating websites have done. Over the years of operation, BikerKiss.com has rated as one of the top biker dating websites by dating experts and users. The staff behind this site has always worked hard to provide the best service for its biker members. It has frequently developed lots of new top-notch features to make it easy and quick for biker users to find their perfect matches. The new features include Biker Backseat or Passenger, Biker Date Ideas, Biker Tattoo Show and so on. Now there's the Biker Fashion Show.
The Canadian online biker dating expert Kirsten Vangsness said, "Online dating has been the most popular way for bikers to find their suitable riding partners. However, some of the websites cannot provide the most ideal experience for its members. BikerKiss.com is an exception. It always comes up with some new features that surprise everyone. From my opinion, the Biker Fashion Show is another great feature which will allow members on the site to share their pictures of themselves with bikes. And the impact will be seen soon."