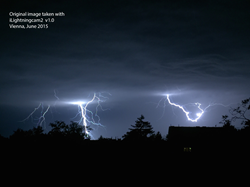 Lightning photography has never been easier
Vienna, AUSTRIA (PRWEB) July 18, 2015
iLightningCam 2 uses true real-time recognition of lightning strikes. Once recognized, your iPhone takes a picture of the recognized lightning in up to 8MP. And yes - your iPhone and iPad are fast enough!
The Second Generation of this app follows the unique iLightningCam, which was the only app with ISO control for years since 2012 with more than 160,000 users.
The assistant of iLightningcam 2 is now replaced with a full 'AUTO' Mode during day and night. No photographic skills or knowledge is needed. The user just needs to point the iPhone towards the part of the sky/thunderstorm where the next lightning strike is expected and the app will automatically capture each lightning that happens in its view. For best possible image quality, iLightningcam offers automatic adaptive ISO control for iPhones, which is essential to capture lightning during night without overexposure. All photos are acquired at full photo resolution without any tricks or interpolation.
The automatic lightning adaptive ISO control calculates the perfect ISO settings for any given situation using image analysis of the actual view finder image and in addition, it takes the brightness characteristics of the last strikes in account to predict and set the optimal ISO value for the next photo.
However, despite a full AUTO mode, it also offers an expert mode, that allows to change all possible settings manually and provides the necessary freedom for creative advanced photographers. iLightningcam 2 offers improved lightning detection and photography with zero shutter lag, triple shot mode, rolling shutter artifact reduction, very low image noise and much more. The newest features include a complete new modern user interface.
iLightningCam 2 features:
Full AUTO Mode!
No user input needed!
The app changes automatically between day and night mode
Continuous calculation of best ISO settings based on the last strikes
Original Photo Resolution, no tricks, no interpolation!
Much better detection!
Double-shot, + one image as blend of first and second shot!
New modern design!
For experts: ISO ranges are fully manually adjustable, if wished!
You only need a good view on a real thunderstorm.
A warning from the developers: Thunderstorms are obviously dangerous and life threatening for everyone and not healthy for iPhones either. Take care using this app! Do not take any risks and avoid exposure to thunderstorms. Use this App only in lightning and in storm protected locations. You are solely responsible for your actions and any adverse consequences. There is a full safety warning included in the instructions page.
Device Requirements:

iPhone iPhone 4S or newer, optimized for all new models
iPad 3 or newer, optimized for all new models
iPod touch or newer
Requires iOS 8.0 or later
Pricing and Availability:
iLightningCam 2 is $2.99 (or equivalent amount in other currencies) and available worldwide exclusively through the App Store in the Photo & Video category.
Operating out of Vienna, Austria, independent developers Florian Stiassny and Helmut Ringl are radiologists with a coding history of 12 and 20 years. Florian has released several apps, mainly in the medical segment. Copyright (C) 2012 Florian Stiassny. All Rights Reserved. Apple, the Apple logo, iPhone, iPod and iPad are registered trademarks of Apple Inc. in the U.S. and/or other countries.