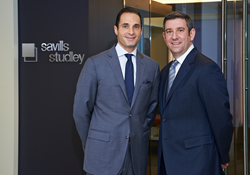 We're honored to be recognized as one of Chicago's Best and Brightest Companies to Work For two years in a row.
Chicago, IL (PRWEB) July 17, 2015
Savills Studley announced today that its Chicago office has been named one of the "Best and Brightest Companies to Work For" for the second consecutive year by the National Association for Business Resources (NABR).
"We're honored to be recognized as one of Chicago's Best and Brightest Companies to Work For two years in a row," said Executive Vice President and Co-Head of the Savills Studley Chicago Office, Robert Sevim. "As we seek to recruit elite talent in the Chicago commercial real estate community, we are proud to offer employees an environment that acknowledges hard work, encourages entrepreneurialism and supports professional development, community involvement and work-life balance."
An independent research firm evaluates each company's entry based on key measures in various categories.
"The companies selected as Best and Brightest Companies to Work For have created impressive organizational value and business results through their policies and best practices in human resource management. This award is a powerful recruitment tool in the drive to attract and retain exceptional employees in the Chicagoland area," said Jennifer Kluge, NABR president.
Savills Studley established the Chicago office in 1962, where it has been a significant presence in the Chicago commercial real estate industry for over 50 years. Savills Studley's Chicago office has 50 full time employees and, within the past 10 years alone, has executed approximately 2,064 lease agreements and other acquisitions resulting in over 42.8 million square feet of space. In addition, the firm prioritizes its philanthropic roots through the annual Savills Studley Landlord Golf Challenge, which has raised nearly $2 million for local charities since its inception.
About Savills Studley
Savills Studley is the leading commercial real estate services firm specializing in tenant representation. Founded in 1954, the firm pioneered the conflict-free business model of representing only tenants in their commercial real estate transactions. Today, supported by high quality market research and in-depth analysis, Savills Studley provides strategic real estate solutions to organizations across all industries. The firm's comprehensive commercial real estate platform includes brokerage, project management, capital markets, consulting and corporate services. With 27 offices in the U.S. and a heritage of innovation, Savills Studley is well known for tenacious client advocacy and exceptional service.
The firm is part of London-headquartered Savills plc, the premier global real estate service provider with over 27,000 professionals and over 600 locations around the world. Savills plc is listed on the London Stock Exchange (SVS.L).
For more information, please visit http://www.savills-studley.com and follow us on Twitter @SavillsStudley and LinkedIn.