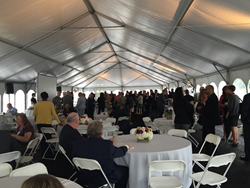 Cherry Hill, NJ (PRWEB) July 17, 2015
More than 300 addiction treatment professionals showed up for a 3 hour networking event in Cherry Hill on Wednesday to celebrate the grand opening of Sunrise Detox, a 20 bed inpatient drug and alcohol detox center on Brace Road. Drug counselors, clinical directors, addiction specialists and private practitioners came from Camden County and all over New Jersey, as well as Philadelphia, to tour the facility and meet the clinical and business staff. Treatment centers from all over the United States sent representatives, since detox is the first stage of treatment before rehab. Sunrise Detox has partnered with over 850 treatment centers as a provider of medical detox, the first stage of treatment from addiction, including heroin addiction.
Sunrise Detox hosts an open house for each new detox center it opens to encourage treatment professionals to personally witness the customer service, comfort, and personal encouragement that comes with a "Detox with Dignity". Sunrise operates six facilities in New Jersey, Florida, and Atlanta.
Treatment professionals know Sunrise Open House events to be some of the best networking opportunities available for meeting current and future partners in the Continuum of Care, the industry commitment to helping each person who needs assistance throughout the recovery process.
Sunrise makes available a detailed report about the event as well as information about Sunrise Detox Cherry Hill, for those who could not attend the Open House networking event. The report can be found at https://SunriseDetoxCherryHill.com. A fun photo gallery of professional candids will also be posted to https://SunriseDetoxCherryHill.com/open-house/.