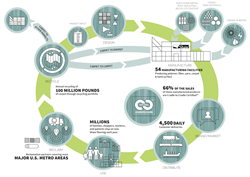 Shaw's recent investments will result in 1,000 new jobs in the coming years – this is the kind of innovation that creates a more sustainable future," said Vance Bell, chairman and CEO, Shaw Industries.
Dalton, GA (PRWEB) July 17, 2015
Shaw Industries' 2014 Sustainability Report, released today, marks a pivotal year in the company's comprehensive approach to sustainability.
Shaw's shift to the Global Reporting Initiative's newest G4 standard converged with a notable increase in the demand for supply chain transparency surrounding product ingredients across the flooring industry. The company, well prepared by more than a decade of designing for Cradle to Cradle CertifiedTM product standards and a long history of meeting and anticipating market changes, is continuing to develop innovative sustainability solutions to create a better future for its customers, associates and communities.
"In the past 2 years, we have committed $540 million in capital investments to enhance our operations, including $350 million in expansions," said Vance Bell, chairman and CEO, Shaw Industries. "These initiatives in infrastructure, equipment, advanced technology, and product development will get underway throughout 2015 and 2016, and result in 1,000 new jobs in the coming years – this is the kind of innovation that creates a more sustainable future."
Every Material, Every Process, Every Action. Designed for a Better Future: It's Shaw's holistic approach to sustainability. To continue to be a sustainability leader, Shaw engages with stakeholders and the market to anticipate and respond to ever-changing sustainability priorities. The company innovates by taking risks and learning from them. Guided by Cradle to Cradle, Shaw employs a diverse portfolio of sustainability solutions.
"The materiality assessment conducted in 2014 to prepare for the G4 standard confirmed what we're seeing in the marketplace: Product stewardship, material use, branding and marketing, and talent management are the priorities for us and for our stakeholders," said Paul Murray, vice president of sustainability and environmental affairs at Shaw.
The new report outlines significant initiatives related to these important items including:
Product Stewardship
Shaw announced a more than $20 million investment in a new recycling facility in Ringgold, Ga. The latest addition to Shaw's industry-leading carpet recycling portfolio, Evergreen Ringgold, will be the first of its kind to recycle nylon as well as polyester carpet. This expansion to Shaw's recycling capabilities builds upon Shaw's efforts that have resulted in the collection and recycling of more than 800 million pounds of post-consumer carpet since 2006.
Material Use
Shaw takes the utmost care to ensure that the materials that go into its products are both safe and environmentally responsible. In 2014, 66 percent of the sales of Shaw manufactured products were Cradle to Cradle Certified Silver.
Branding and Marketing
Shaw is committed to communicating responsibly and regularly about its products and the company's approach to sustainability. Through its commitment to Cradle to Cradle and numerous other sustainability standards and reporting tools, Shaw employs labels and certifications as credible evidence of the company's commitment to transparency and third-party verification and to help facilitate product purchase decisions.
Talent Management
Shaw recognized the changing needs of its people and its business and identified key leadership characteristics that will be important in Shaw's success moving forward. Shaw also began to establish more formal opportunities for its associates to support each other through affinity groups such as the Women's Innovation Network (WiN) and ShawVET. These and other efforts resulted in Shaw being named number eight on the Forbes' inaugural list of America's Best Employers.
View Shaw's 2014 Sustainability Report at sustainability.shawinc.com.
About Shaw Industries
The world's largest carpet manufacturer and a leading floorcovering provider, Shaw Industries Group, Inc. is a vertically integrated manufacturer that supplies carpet, hardwood, laminate, resilient, tile & stone flooring products and synthetic turf to residential and commercial markets worldwide. A wholly owned subsidiary of Berkshire Hathaway, Inc. with more than $4.8 billion (USD) in annual sales and 23,000 associates, Shaw is headquartered in Dalton, Georgia, with salespeople and/or offices located throughout the U.S., as well as Australia, Canada, China, India, Mexico, Singapore and the United Kingdom. For more information, visit sustainability.shawinc.com.