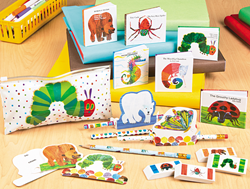 "We're excited to help parents and educators bring the magic of Eric Carle's books to life at home and in the classroom," said Sam Taylor, CEO of Oriental Trading Company
Omaha, NE (PRWEB) August 04, 2015
Oriental Trading Company, Inc., the nation's largest direct retailer of value-priced party supplies, arts and crafts, toys, novelties, and school supplies, has developed engaging and affordable teacher supplies based on the beloved Eric Carle books and characters.
The exclusive collection includes student rewards, classroom decorations, crafts and educational resources featuring Carle's vibrant illustrations and inspirational messages. Each new product celebrates much-loved characters from The Very Hungry Caterpillar, Brown Bear Brown Bear, and other popular tales, capturing the playful themes and instilling a hunger for learning in the classroom.
"We're excited to help parents and educators bring the magic of Eric Carle's books to life at home and in the classroom," said Sam Taylor, CEO of Oriental Trading Company. "Our new line of affordable products combines fun and learning through the exploration of imagination and art."
"Eric Carle's books are beloved by parents, educators, and children," said Debra Joester, CEO of global licensing agency Joester Loria Group. "We are excited to grow The World of Eric Carle collection of products with a partnership with Oriental Trading that will further expand the program into homes, schools and libraries."
The first collection includes 32 classroom products on orientaltrading.com and in the Hands on Fun catalog for educators. Additional classroom and party supply collections will roll out next year.
For 45 years, The World of Eric Carle has engaged consumers and encouraged children to explore through award-winning books and merchandise, fan sites, Facebook pages, magazines, school curriculum programs, special events and the Eric Carle Museum.
About The World of Eric Carle™
The World of Eric Carle™ is a design-driven licensing and merchandising program based on the beloved picture books by Eric Carle. A prolific author and artist, Eric Carle has written and illustrated more than seventy books, which have sold over 127 million copies worldwide. Like his books, The World of Eric Carle brand draws upon Eric Carle's approach to creativity, discovery, play and development. Licensing and merchandising programs are ongoing in the US, Japan, UK, Australia and Europe. For more information, please visit: http://www.Facebook.com/theworldofEricCarle
About Oriental Trading Company (A Berkshire Hathaway company)
Oriental Trading Company is the nation's largest direct retailer of value-priced party supplies, arts and crafts, school supplies, toys, and novelties. The company is recognized as one of the Top 20 Online Retailers for Customer Satisfaction and one of the Top 50 Catalog Companies. Oriental Trading employs approximately 1,800 employees and offers more than 50,000 products to individuals, teachers, schools, churches, businesses, and not-for-profit organizations. From pink flamingos, party supplies, and wedding favors to holiday decorations, educational games, and crafts, Oriental Trading makes the world more fun!
http://www.orientaltrading.com
http://www.mindware.com
http://www.smilemakers.com