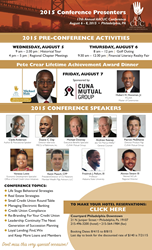 Our speakers are exceptionally talented, experts in their respective fields, they will educate and inspire you. - Lynette W. Smith
Philadelphia, PA (PRWEB) July 23, 2015
The "City of Brotherly Love" is this year's location for the 17th Annual AACUC Conference. This year's conference is packed with a full agenda of pre-event activities, informative information and a well-planned Financial Literacy Reality Fair.
The conference Keynote Speaker is Author/Strategist, Clyde Anderson. With over 400 appearances on CNN and authoring several books, Mr. Anderson's insightfulness will be an experience you don't want to miss. In addition to Mr. Anderson, a list of conference speakers includes such notables from the credit union industry as: Duane C. Day, Michael Downey, Andrew Keeney, Patrick McElhenie, Vanessa Lowe, Kevin Paasch, Fredrick Pellum and Alonzo Swann.
One of the AACUC Conference highlights is the Pete Crear Lifetime Achievement Awards Dinner, sponsored this year by the CUNA Mutual Group. The 2015 recipient is Mr. Michael Hale, Executive Vice President and Chief Strategy Officer, over Cards, Collections and Fraud Mitigation at the Arizona Federal Credit Union. Mr. Hale who is a U.S. Army veteran and a Bronze Star Recipient, is also the founding chairman of the board for the AACUC. The Master of Ceremony for the awards dinner is Hubert H. Hoosman, Jr, former President and CEO of Vantage Credit Union in St. Louis, Missouri. Currently he is an entrepreneur and partner at Haywood Hoosman Realty. Also in attendance will be Pete Crear and other past recipients.
This year's host is American Heritage Federal Credit Union. With over a billion in assets, this credit union ranks as one of the nation's most financially sound institutions. With American Heritage Federal Credit Union's participation, the City of Brotherly Love will feel more like a "Family Reunion" for credit union members in attendance.
The 17th Annual AACUC Conference kicks off with pre-event activities on Wednesday August 5, 2015. For more information please visit: http://www.aacuc.org/2015-annual-conference
About American Heritage Federal Credit Union:
American Heritage Federal Credit Union is a $1.6 billion member-owned financial cooperative serving over 700 sponsor companies. It is the 132nd largest Credit Union in the Country based on asset size, and the 114th largest based on members, with over 136,000. The credit union has 30 branches in Philadelphia, Bucks, Montgomery, and Camden Counties.
About AACUC:
The African-American Credit Union Coalition (AACUC) was created to increase the strength of the global credit union community. We are a non-profit organization of African-American professionals and volunteers in the credit union industry.