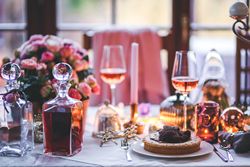 Upcoming Foodie Events in Greenville South Carolina
Greenville, South Carolina (PRWEB) July 18, 2015
Greenville is becoming one of the top places to live in South Carolina for people looking for palette excitement. It's no secret that Southerners love their food. That's part of the reason Greenville, SC is quickly gaining popularity as a "Foodie's paradise," with an enticing and diverse collection of dining experiences and cuisines – from traditional to global to downright eclectic. There are over 600 restaurants to choose from in the region. Eating at great restaurants in Greenville SC neighborhoods is one part of the area's culinary culture. If sipping, sampling and strolling through beautiful communities in South Carolina interests is on the family's list, make plans to visit the area during one of the city's foodie events.
The annual Euphoria Festival takes place September 17-20, 2015. Food lovers from around the country enjoy this weekend-long event. Now in its tenth year, the Euphoria Festival includes exclusive tasting events, cooking demonstrations and wine seminars, as well as multi-course dinners and live musical performances. The Loft at Soby's will host the "Roast & Toast" ticket launch festivities, with participating purveyors Rappahanock Oyster Company, BBQ from John Lewis of La Barbecue (Austin, TX) and Lewis BBQ (coming to Charleston this fall), Liquid Catering, Firefly Vodka and Larceny Bourbon set up outside. Inside the Loft, folks will find desserts and sweet stuff from Derin Moore and CMC of Performance Foodservice, along with coffee from Due South Coffee Roasters. Live music from the Erica Berg Collective will entertain from the rooftop of the Loft.
New to 2015: Euphoria gets sporty. From cycling with George Hincapie to toasting and tee times out The Cliffs, the new Sports Series that offers something for every athlete hiding inside a foodie's body.
Golf at The Cliffs: Join The Cliffs for a day of golf, lunch and libations at The Cliffs at Mountain Park, a private residential community located at the Southernmost tip of the Blue Ridge Mountains. This Gary Player designed course is set along the banks of the North Saluda River and accentuates the mountain ridgelines. Recognized as a Best New Course by GOLF Magazine and Golf Digest, and a Top 100 Modern course by Golf Week this links style course features diamond zoysia fairways, native grasses and over 13 acres of bunkers. Enjoy 14 holes (with breaks for Bloody's and beverages) and lunch at this magnificent Cliffs property. Transportation provided. Rental clubs available on a first come basis with advance notification. Call 866.411.5773 for more info.
Baby Boomers continue to be the generation of trend setters. This demographic leaves its mark wherever it goes, constantly changing perceptions of aging and what life should be like as we grow older. Boomers are aging adventurously and flourishing as foodies, satisfying their insatiable appetite for good food and luxurious libations. Those over the age of 55 are the largest consumers of wine, drinking 44 percent of the overall volume. Boomers' heightened interest in great cuisine and living healthier lifestyles is evident in the close attention they pay to food choices. Greenville SC neighborhoods are increasingly packed with foodies, especially boomers, looking to spice up their culinary lives.
Visiting the area is a great way to experience what's on the menu and explore Greenville SC neighborhoods within the city or in the Upstate around emerald green Lake Keowee.
About Real Estate Scorecard:
Real Estate Scorecard writes unbiased real estate reviews providing in-depth information about popular gated communities in Florida, Georgia, the Carolinas, Tennessee and Central America, all in an effort to help people discover where to retire in the South.
Website: http://realestatescorecard.com