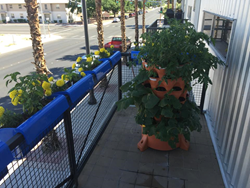 "Our mission at Garden Tower Project is to make fresh food available to those who lack resources for growing traditional gardens. We applaud the Las Vegas community for all of its efforts in what we see as a national model for local food production.
Bloomington, IN (PRWEB) July 18, 2015
Las Vegas is a city with a rapidly growing commitment to find green solutions for food sustainability and locally grown fruits and vegetables out of an almost certain, impending necessity. The Garden Tower Project, an Indiana-based company, has a direct answer for this desert community — the Garden Tower 2.
Community organizations, schools, restaurants and residents are using the Garden Tower Project's Garden Tower 2, a container garden that makes growing organic vegetables a reality in locations that have never before been capable of nourishing plants, like flat rooftops, concrete slabs and ordinary decks.
Early adopters of the Garden Tower 2 report water savings of as much as 90 percent compared to traditional garden plots because of low evaporation from the vertical design. This helps wherever one lives, but is particularly critical in high-altitude, drought-stricken areas and desert environments. The Garden Tower 2 re-uses the water draining through the tower—this increases productivity and preserves nutrient density and is vital to growing in challenging areas like Las Vegas.
"Our mission at Garden Tower Project is to make fresh food available to those who lack resources for growing traditional gardens. We applaud the Las Vegas community for all of its efforts in what we see as a national model for local food production and community resilience," said Garden Tower Project's Tom Tlusty. "We are honored that our Garden Tower 2 can be part of the solution and are dedicated to helping more people learn how easy it can be to grow their own food."
Garden Tower 2s can be spotted in the community gardens that are springing up across Las Vegas, in the many schools that are dedicating classes to food education, and in restaurants that want to serve the freshest food to their customers.
David Mozes, General Manager of Bronze Café, a vegan-friendly restaurant in downtown Las Vegas, is growing herbs and vegetables with the Garden Tower 2. Mozes grows his own produce for use in his cafe's fresh, made-from-scratch dishes and also to be part of the burgeoning green movement in his community. He hopes to gradually increase the amount of food grown from the cafe's own gardens as he learns from his own hands-on experience what grows most abundantly in urban Las Vegas gardens and at what times of year.
"We can all make an impact, and Bronze Café is committed to being an example of local food production," said Mozes.
Others in the area are equally committed. Rick Van Diepen, Chapter President with the U.S. Green Building Council Nevada and Principal at Greenview Global, a sustainability and green building consulting firm headquartered in Las Vegas sees the efforts in Las Vegas as instrumental in helping other gain a better understanding of food sustainability. Van Diepen and the USGBC along with dozens of local, state and national organizations are coming together to educate a broader audience.
"With food insecurity and drought conditions facing many areas of the U.S., Las Vegas is reaching out beyond our local community to host the first, statewide Nevada Green Schools Summit in October focused on sustainability, STEM education and urban agriculture," said Van Diepen. "We will bring to together educators, facility managers, industry professionals and green education organizations, including the Garden Tower Project, to share best practices and identify opportunities in food production."
The Garden Tower 2 grows plants vertically, enabling you to grow 50 plants or more in just 4 square feet — and is quickly becoming known as one of those best practices in food sustainability. The design rotates 360 degrees for optimal lighting and convenient watering. Each Garden Tower 2 has a perforated compost center column that allows for vermicomposting. With the simple addition of redworms, ordinary kitchen scraps convert to nourishing organic fertilizer, which makes the Garden Tower 2 self-fertilizing. A nutrient collection drawer also allows harvest of compost "tea" (finished compost and worm castings) for easy recycling to the top of the Garden Tower to further increase soil fertility. The Garden Tower also supports wider varieties of large vegetables that cannot be grown in other container-type gardens, including cabbages, broccoli, squash, zucchini, cucumber and melons. With supplemental lighting, the Garden Tower 2 can easily be used indoors.
"We will continue to support Las Vegas in its efforts and all the dedicated community members who are leading the way," said Tlusty. "Many more green communities are taking food sustainability seriously and Garden Tower Project believes that through education and outreach we can make eating healthy and locally a reality."
Learn more at http://www.gardentowerproject.com and follow on Facebook at https://www.facebook.com/GardenTowerProject.
For information on the 2015 Nevada Green School Summit visit http://usgbcnv.org/green-schools-summit or search #nvgreenschoolssummit on Twitter.
About Garden Tower Project LLC: A socially responsible business concept based in Bloomington, Ind. Garden Tower Project strives to ensure easy availability of fresh, organic food, particularly for people who lack access to growing space. Garden Tower Project has been recognized by the International Design Awards for excellence in Sustainable Living/Environmental Preservation. Garden Towers are now being used to grow food in all 50 states and seven Canadian provinces.