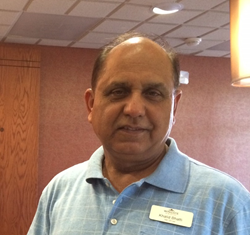 CHANTILLY, VA (PRWEB) July 21, 2015
As the summer travel season gets into full swing, hotels throughout the region are doing everything they can to maintain personnel that proudly represent their brands. The Wingate by Wyndham Chantilly/Dulles Airport proudly honors Houseman/Driver Khalid Bhatti has been an employee of the hotel since before the first guest even walked through its doors. The hotel is managed by Crescent Hotels & Resorts, an operator of over 100 hotels throughout North America, including 16 in the Washington, DC area.
"While we are very proud of all our team members," said, Steve Lamb, hotel General Manager, "Khalid is a very special part of the hotel and is loved by guests and coworkers alike." Bhatti started working at the hotel six months prior to the hotel opening in September 2001. In the 14 years since, he has worked in virtually every position at the hotel.
"Khalid treats the hotel staff members as if they are his family and always offers great suggestions on how to improve the service we provide to our guests," said Reyna Portillo, the hotel's Assistant General Manager and Bhatti's supervisor. "He works from the heart and tries to always see things from the guest's perspective."
Bhatti currently works as a driver for the hotel, providing guests complimentary transportation to local restaurants, the Smithsonian Institution's Air & Space Museum, area shopping and Dulles International Airport. Bhatti often works overnight as the Wingate is one of the few hotels that offers 24 hour transportation to the airport, catering to Washington, DC's international travelers with various flight schedules. When not driving, Bhatti works tirelessly to keep all the public areas of the hotel clean for hotel guests.
"I don't even recognize the hotel from where it was just a year ago," said Bhatti, referring to the multimillion dollar renovation that was just completed. "Our guests say the same thing about our hotel. They are amazed at our new look, and I'm proud to be part of that change." Bhatti enjoys working for Portillo "because she is very approachable and open to our ideas."
Bhatti, originally from Pakistan, has lived in the Washington, DC suburban area for 23 years and has one son and extended family living in the area.
ABOUT WINGATE BY WYNDHAM CHANTILLY/DULLES AIRPORT
The Wingate by Wyndham Chantilly/Dulles Airport is located less than 7 miles from Dulles International Airport. As one of the few hotels offering complimentary shuttle service 24 hours a day, the Wingate by Wyndham is a favorite hotel for those visiting Washington, DC that need the extra flexibility to arrive and depart at a moment's notice. The 131 room hotel offers, complimentary full American breakfast, indoor heated swimming pool and complimentary WI/FI internet access throughout the property. With a boardroom that seats eight and meeting space that seats up to 60, the hotel is the ideal location for those looking to get down to business – whether it's a corporate meeting or those heading up a family reunion. Located close to Virginia wine country and Washington, DC, makes the hotel the perfect location for a weekend getaway. Parking is complimentary and the hotel is in walking distance to three restaurants and offers complimentary transportation to many others as well as local offices. Even the family pet is welcome. For more information, visit http://www.dulleslodging.com, and connect on Google+.
ABOUT STAY IN WASHINGTON DC
Stay in Washington DC includes Crescent Hotels & Resorts' hotels located in and around Washington, DC. These properties are internationally recognized brands including, Hilton, Hyatt, Sheraton, Westin, Marriott, IHG, Wingate by Wyndham, Radisson, Cambria hotels & suites and Best Western. Most hotels are in walking distance to a Metrorail or offer complimentary shuttle service that links guests to the city's world renowned Metrorail network. Most locations offer various dining, shopping and entertainment options just minutes away via walking, complimentary shuttle or Metrorail. Several locations offer award winning restaurants right inside the hotels. For more information, visit http://www.stayinwashingtondc.com, like on http://www.facebook.com/StayInWashDC, follow on http://www.twitter.com/stayinwashdc, follow on Instagram, subscribe on YouTube and connect on Google+.
ABOUT CRESCENT HOTELS & RESORTS
Crescent Hotels & Resorts is a nationally recognized, top-5 operator of hotels and resorts. Crescent currently operates over 100 hotels and resorts in 36 states in the US and 4 provinces in Canada. Crescent is one of the few elite management companies approved to operate upper-upscale and luxury hotels under the brand families of Marriott, Hilton, Starwood, Hyatt and IHG. Crescent also operates a collection of legendary independent hotels and resorts. Crescent's clients are made up of hotel REITs, private equity firms and major developers. For more information, please visit http://www.chrco.com.
rw Stayinwashingtondc.com #stayinwashdc