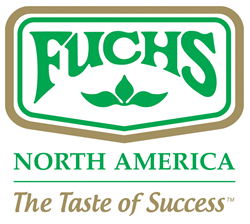 The goal is to help food manufacturers and companies in the foodservice segment come up with new taste sensations – new offerings that are distinctively different, not just 'more of the same'.
Baltimore, Maryland (PRWEB) July 22, 2015
Fuchs North America, a leading provider of seasonings, flavor systems and taste solutions to the food manufacturing and foodservice industries, introduces its Quick & Casual Collection – a new line of 10 distinctive seasonings, sauces, mixes and flavors.
The new collection focuses on convenience foods – including fast food and fast casual – that are bigger than ever in today's food marketplace. Not only are they invigorating foodservice menus, they're invading the grocery aisle as well.
The Quick & Casual Collection from Fuchs contains a completely new selection of uniquely exciting seasonings and flavors that are perfect for burgers and sides, along with craveable sauces/spreads and surprisingly different and irresistible shake/drink mixes.
These items are also the starting point for developing unique signature product offerings for foodservice customers, as well as new processed food products for the grocery and retail food segments.
The ten exciting items included in Fuchs' new Quick & Casual Collection are:
For burgers:

Smoky-Spicy Garlic Burger Seasoning
Cheddar-Bacon Grind
Mushroom Truffle Burger Seasoning
Sauces:

Yokohama Yum-Yum Sauce
Fuchs' Ultimate Craveable Seasoning
Tunisian Honey-Harissa Sauce
For sides:

Hearty Roasted Vegetable Seasoning
Sacramento Valley Garlic & Herb Seasoning
Drink mixes:

Basil Breeze Milkshake Mix
Masala Chai Drink Mix
In introducing the collection, Ken Wuestenfeld, Fuchs' vice president of sales and technical services, explained the strategy behind the offerings. "These latest profiles represent great new ways for those who provide fast food, fast casual and other convenience foods to turn their offerings into a true on-the-go gourmet experience. Based on what our taste trend research is telling us, we expect them to be popular options for product design specialists – or anyone else responsible for developing food items that capture the attention of consumers," Wuestenfeld stated.
According to Howard Cantor, Fuchs North America's corporate research chef, the Quick & Casual Collection is filled with innovative offerings that draw their inspiration from national cuisines from all over the globe and that are influencing American tastes.
"It's no secret that America's taste palette is becoming more wide-ranging with each passing year," Cantor explained. "Fast food and fast casual establishments have picked up on the trend and are offering all sorts of exciting new menu items – offerings that would have been unheard of on menus just a few short years ago. These trends are absolutely being driven by younger, hipper and more adventuresome customers," he added.
Cantor stressed that the items that make up the Quick & Casual Collection are fresh and different. "Consider burgers. That's a staple on fast casual menus and a perennial favorite with customers. But what many people are looking for are bold new twists on a classic concept. So we're offering three exciting new burger seasonings. Our Smoky-Spicy Garlic Burger Seasoning is one that contains smoked red chili, roasted garlic and a bit of black and white pepper heat for the ultimate in savory meaty notes."
"Cheddar-Bacon Grind is another unique burger offering that combines sharp yellow cheddar cheese and smoky bacon with soy, Worcestershire and garlic for a robust, hearty taste sensation that also delivers a special texture in addition to a special taste," Cantor continued.
"Lastly, our Mushroom Truffle Burger Seasoning delivers earthy, irresistible flavors of shiitake, portabella and porcini mushrooms along with vibrant truffle and umami flavors," Cantor added. "The end result is a burger that is distinctly different – and utterly irresistible."
The sauce offerings in Fuchs' new Quick & Casual Collection include Yokohama Yum-Yum Sauce, a sweet-tangy creamy concoction with a touch of hot sauce that is perfect for Japanese and Asian-fusion cuisine. Tunisian Honey-Harissa Sauce is a delightful blend of smoked and roasted chilies and garlic along with cumin, clover honey, and a fruity olive oil, inspired by North African cuisine.
A third sauce offering is Fuchs' Ultimate Craveable Sauce, which Cantor describes as a full-flavored umami spread with meaty mushroom and cheese flavors as well as a hint of fermented notes and smoke. "When we say this is the ultimate craveable sauce, we mean it – and we have the taste-testing results to prove it," Cantor emphasized.
In the fast casual segment, side items are often just as important as main menu selections. Recognizing this fact, the new Fuchs collection offers two delectable seasoning creations for creating memorable sides. Hearty Roasted Vegetable Seasoning is a blend of herbs and spices that is perfect for fire-roasted vegetables, rice and other side dishes. Sacramento Valley Garlic & Herb Seasoning incorporates smoked and roasted garlic along with Mediterranean oregano, cream and light cheese notes for a taste that's distinctive and different.
The final items in the new Quick & Casual Collection are two drink mixes that represent the ultimate in unusual offerings that capture both the attention and imagination of food customers.
"Our Basil Breeze Milkshake Mix is a surprising combination of sweet basil, vanilla and a light anise flavor along with extra-virgin olive oil – yes, olive oil! – for a fresh and tantalizing new twist on an American staple," Cantor noted. "And our Masala Chai Drink Mix goes halfway around the world for an inspired mix of black tea, vanilla and the 'three Cs" of South Asian sweet spices: cinnamon, cardamom and cloves."
According to Patrick Laughlin, director of marketing, the strategy behind Fuchs' new offerings like the Quick & Casual Collection is to help foodservice establishments and food manufacturers create novel and exciting items that build on diverse culinary traditions, but that are also unique in their own special ways.
As Laughlin explained, the developmental process is a combination of science and art. "It's a continuing focus on evolving consumer taste preferences. But we also experiment with different flavor combinations," he noted. "The goal is to help food manufacturers and companies in the foodservice segment come up with new taste sensations – new offerings that are distinctively different, not just 'more of the same'."
With each customer, Fuchs North America goes from concepts to manufacturing to delivery of an approved flavor as quickly as possible. "Because we have a wide range of flavor bases at the ready, we can provide samples for immediate testing. Then we customize and refine the flavor to attain just the right taste characteristics our customer is seeking," Laughlin reported.
Doing so means taking an idea from concept to delivery in a matter of a few weeks – or even shorter. "Being able to support customers with that kind of schedule is a huge benefit when they are under tight product development timeframes," Laughlin emphasized.
For a limited time, Fuchs North America is offering complimentary samples of the items in its new Quick & Casual Collection. To request samples, contact Patrick Laughlin, Director of Marketing, at 800-365-3229.
About Fuchs North America
Fuchs North America is a leading producer and supplier of value-added seasonings, spices and flavor systems to the food manufacturing and foodservice industries. With a heritage that extends back more than 75 years, the company specializes in the development of full flavor systems, custom flavor profiles and seasoning products – including supporting some of the world's largest and best-recognized food brands.
Fuchs North America's seasoning specialists are experts in anticipating and identifying consumer trends – and converting them into successful flavor profiles. They work closely with food technologists and product development personnel at client companies to design distinctive, differentiated flavor systems. Fuchs products are made in a precision processing environment that ensures consistent, repeatable quality, order to order.
Since 1990, Fuchs North America has been part of the worldwide Fuchs Group, the largest privately-held spice and seasoning company in the industry. The Fuchs Group serves food manufacturing, foodservice and retail segments, backed by secure, quality sourcing plus state-of-the-art production facilities on four continents. Website address: http://www.fuchsna.com.