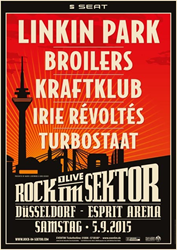 A major new addition to the list of world-class events in Düsseldorf
Düsseldorf, Germany (PRWEB) July 20, 2015
Düsseldorf is home to a large variety of the biggest and best events in Germany. An annual rock festival called "Rock im Sektor" (Rock in the Sector) is a major new addition to the list of world-class events, and it premiers with a bang by featuring superstar rock bands Linkin Park, Kraftklub, and Broilers on September 5, 2015.
The venue is Düsseldorf's ESPRIT Arena, a multi-function stadium that holds more than 54,000 visitors, and the star power of the festival's headliners promises a huge international premiere attendance: Grammy-winning American rock band Linkin Park is one of the world's most popular contemporary rock bands and has sold over 60 million albums worldwide. The five-member band Kraftklub and their unique combination of rock, indie and rap is considered one of Germany's top rock bands, and the band Broiler is from Düsseldorf and sure to be a powerful magnet for fans from the city and beyond.
More artists will be added to the festival's program. Tickets start at 65.00 euros. For more information and to buy tickets, please visit: http://www.rock-im-sektor.com.
Düsseldorf's tourism office is offering hotel and city specials for stays in 2015. The package, called "Düsseldorf à la Card," can be booked right from the tourism office's website at https://www.duesseldorf-tourismus.de/en/accommodation/hotel-packages/duesseldorf-a-la-card/. Prices start at €49 per night per person based on double-occupancy for a 2-3-star hotel in the city center and at €95 per person for a 4-star hotel. The package includes breakfast, one DüsseldorfCard (free public transportation within city limits, plus 30 free or reduced admissions to city attractions), and a city information package. Please check the website for current information.
# # #
Düsseldorf Marketing & Tourism GmbH is the visitors and convention bureau of the city of Düsseldorf. Its responsibilities include tourism and city marketing, as well as conference and meeting marketing, hotel reservation services, fairs and convention services, city event ticket sales and advance ticket reservations. For more information, visit http://www.visitduesseldorf.de.
Düsseldorf Airport, Germany's Next Generation HubTM, offers several non-stop flights from US cities (Atlanta, Chicago, Ft. Myers, Los Angeles, Miami, New York, Newark), as well as convenient connections to many European cities. For more information about the airport, visit http://www.dus.com.