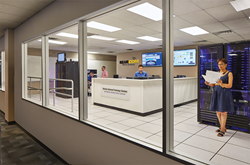 With the NOC, our technicians identify issues early and then enable solutions before problems escalate, and often before they ever impact the customer.
Dallas, TX (PRWEB) July 21, 2015
BearCom, the nation's largest provider of wireless communications equipment and solutions, announced today the opening of its Network Operations Center (NOC) to optimize and remotely monitor two-way radio systems. As part of the BearCom Advanced Technology Solutions line, the BearCom NOC uses the latest technology monitoring resources to proactively evaluate, analyze, diagnose and respond to potential issues with two-way radio system infrastructure equipment.
"To protect and optimize their communications investment, the BearCom NOC is vital to companies with two-way radio systems," said BearCom president & CEO Jerry Denham. "With the NOC, our technicians identify issues early and then enable solutions before problems escalate, and often before they ever impact the customer," Denham added.
These advance notification features allow the BearCom NOC to optimize two-way radio network productivity for enterprise customers, while decreasing operating and safety issues that occur if radio networks fail. By providing visibility into potential performance issues along with back-up documentation, the NOC can save customers money and optimize their manpower. In addition, subscribing to the BearCom NOC service frees up IT staff to work on important strategic initiatives.
The BearCom NOC is designed to monitor Motorola Solutions' MOTOTRBO two-way radio infrastructure. Any MOTOTRBO system is covered, including: conventional digital systems, IP Site Connect, Capacity Plus, Linked Capacity Plus and Connect Plus.
Ian Torok, BearCom director of technical services at BearCom, added, "The NOC allows us to collect important operating metrics, including repeater health, network latency, channel efficiencies and call load." Torok concluded by saying, "We know this technology provides outstanding value because BearCom has been using the NOC for years to support our rental customers. Large event organizers typically use several hundred radios at one time and the BearCom NOC is used during set-up and at the event to monitor infrastructure equipment and call loads."
As part of BearCom's Advanced Technology Solutions, the NOC can be bundled into existing service level agreements and/or preventive maintenance services. For more information on the NOC, see our page at: http://www.BearCom.com/NOC or contact the BearCom NOC team at: 844.700.BEAR (2327) or BearComNOC(at)BearCom(dot)com.
About BearCom
BearCom provides a broad line of high-performance wireless communications products, services and complete mobility solutions. Founded in 1981, BearCom is America's only nationwide dealer and integrator of wireless communications equipment, serves customers from 29 branch offices located throughout the U.S. and employs approximately 370 people. BearCom is headquartered in the Dallas, Texas area and is Motorola Solutions largest two-way radio dealer in the world. BearCom has also earned Motorola's prestigious Service Elite Specialist designation. For more information, visit BearCom.com.
MOTOROLA, MOTOROLA SOLUTIONS and the Stylized M Logo are trademarks or registered trademarks of Motorola Trademark Holdings, LLC and are used under license. All other trademarks are the property of their respective owners. ©2015 Motorola Solutions, Inc. All rights reserved.