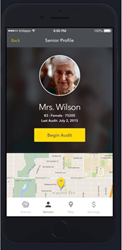 If I had simply dropped my aging father off at the senior care community, I would have thought he was living the life of luxury.
Dallas, TX (PRWEB) July 20, 2015
Penrose Senior Care Auditors® new "Uber-esque" App provides a simple and easy way for families to hire certified professionals to check on their seniors in assisted living communities and report back to them real-time. "Our new app, called the Penrose Platform, is revolutionizing oversight of assisted living communities by putting knowledge and control in the hands of the senior's family members," says Rhonda Harper, CEO and Founder of Penrose Senior Care Auditors.
From coast to coast people with aging parents are calling for more accountability from Assisted Living providers. Even a bi-partisan group of four U.S. Senators, including Elizabeth Warren (D-MA), Susan Collins (R-ME), Orrin Hatch (R-UT), and Clair McCaskill (D-MO), recently announced they are pushing for a review of how governmental officials oversee assisted living facilities.
Of the nearly 20 million seniors that need some type of caregiving assistance, eight million live in long-term care facilities. The statistics are alarming: one in three US facilities are cited each year for violations; 50% of caregivers admit to abusing residents in their care; 95% of residents say they have been abused or witnessed another being abused.
"Two years ago I took over responsibility for my father who was in Assisted Living. I soon learned that if I wasn't there on a regular basis caregiving services weren't being done. I had to take a stand for seniors and their families by creating a service to oversee assisted living communities and report back to family members," says Harper.
It's a sad but all too often truth. Harper's father was in a $5,800 a month new, upscale assisted living studio unit. "The community was gorgeous," continues Harper. "The buildings have stone stacked fireplaces, beamed ceilings, vegetable and flower gardens, outdoor patios with grills, and more. And yet, my father sat un-bathed in unchanged urine-drenched diapers, dirty clothes, and slept in bed linens that were rarely washed or changed as promised. It was outrageous. If I had simply dropped him off and went back home in another state, I would have thought he was living the life of luxury."
Harper observed that seniors with no or infrequent visitors often bore the brunt of inadequate care. "Senior care communities often are short-staffed, and among those who are there, many are under-paid, under-trained, and burned-out." There are very few requirements to become a caregiver, little training and career opportunities, and the average hourly pay is $10 per hour, less than an average part-timer at McDonald's. "These are the people changing your parent's diapers, giving them baths, and ensuring they are fed."
Families go to our website or mobile App, select a senior care auditor based on their profiles and reviews, and determine how many visits a month they want. After paying with a credit card, the audits begin. The Penrose Platform houses, in part, a 7-Factor Senior Care Audit™ comprised of 150 items that are assessed by Penrose Senior Care Auditors. The auditor completes the audit while onsite and before leaving generates findings and suggestions report that is immediately emailed to the client. "While now in Beta, a full-scale launch should begin in early fall."
About Penrose Senior Care Auditors
Headquartered in Dallas, TX and available nationwide, Penrose Senior Care Auditors® makes sure your senior loved-ones are okay, and if he or she has caregivers that those caregivers are doing their job. We visit seniors where they live whether in a private home or a senior living community. Whether our PenroseCertified® Auditors visit several times per week, several times per month or in an emergency or an occasional basis depends on your needs and what's in the best interest of your senior. Our flexible scheduling and affordable pricing are designed to give you and your family peace of mind. For about 5-10% of average assisted living fees, you have an "assurance policy" that your loved-one is okay.