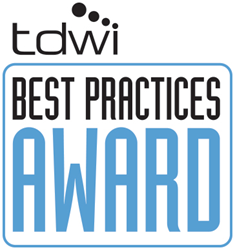 The Best Practices Awards winners will be recognized at the TDWI Conference in San Diego, which takes place September 20–25, 2015, at the Manchester Grand Hyatt.
Seattle, WA (PRWEB) July 17, 2015
TDWI, the premier source for in-depth education and research on all things data, is pleased to announce the 2015 winners of its annual Best Practices Awards.
TDWI's Best Practices Awards identifies and honors companies that demonstrate excellence and innovation in developing, deploying, and maintaining BI, DW, and related data management (DM) applications. All nominated solutions were evaluated on business impact, maturity, innovation, and relevance in their field.
"TDWI is honored to acknowledge this year's winners. They exemplify visionary innovation, dedication, and commitment to excellence in their respective industries," said Steven Crofts, president of TDWI. "These awards showcase the depth and breadth of agile strategies, implementations, and technologies that both address old challenges and promote new solutions."
The Best Practices Awards winners will be recognized at the TDWI Conference in San Diego, which takes place September 20–25, 2015, at the Manchester Grand Hyatt.
Representatives from each company, along with their solution sponsors, if applicable, will receive awards during the ceremony.
Following are the 2015 TDWI Best Practices Awards winners:
Analytics:
Quicken Loans
BI on a Limited Budget:
Firmex (co-winner)
Wells Fargo (co-winner)
Big Data Technologies:
TTNET A.S. (co-winner)
Verizon (co-winner)
Solution Sponsor: Teradata Corporation
Emerging Technologies and Methods:
The Guardian Newspaper
Enterprise BI:
VMware Inc.
Enterprise Data Management Strategies:
VPBank, Vietnam
Enterprise Data Warehousing:
SquareTwo Financial
Government and Non-Profit:
University of Washington
Performance Management:
USAA
Right-Time BI and Analytics:
Uninor (Telewings Communications Services Pvt Ltd)
Solution Sponsor: Teradata Corporation
No winner was selected in the Organizational Structures category.
For more information about TDWI's Best Practices Awards program, visit tdwi.org/bpawards.
About TDWI
For 20 years, TDWI has provided individuals and teams with a comprehensive portfolio of business and technical education and research about all things data. The in-depth, best-practices-based knowledge TDWI offers can be quickly applied to develop world-class talent across your organization's business and IT functions to enhance analytical, data-driven decision making and performance. TDWI advances the art and science of realizing business value from data by providing an objective forum where industry experts, solution providers, and practitioners can explore and enhance data competencies, practices, and technologies. TDWI presents five major conferences as well as topical seminars, onsite education, membership, certification, live Webinars, resourceful publications, industry news, and in-depth research. See tdwi.org or follow us on Twitter @TDWI.
About 1105 Media
1105 Media, Inc., is a leading provider of integrated information and media in targeted business-to-business markets, including specialized sectors of the information technology community; industrial health, safety, and compliance; security; environmental protection; and home healthcare. 1105's offerings span print and online magazines, journals, and newsletters; seminars, conferences, and trade shows; training courseware; and Web-based services. 1105 Media is based in Chatsworth, CA, with offices throughout the United States.
###