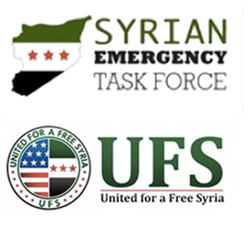 "We hope that now the outrage will transform into action."
Washington, DC (PRWEB) July 17, 2015
The Syrian Emergency Task Force and United for a Free Syria thank the U.S. Holocaust Memorial Museum, the Office of the House Republican Conference, the Senate Foreign Relations Committee, and the House Foreign Affairs Committee for successfully hosting a public briefing in the U.S. Capitol with selected photos from Syrian regime prisons taken by defected forensic photographer "Caesar." The 55,000 photos Caesar smuggled out of Syria document at least 11,000 deaths under detainment between 2012 to 2013.
"We do not have the words to express the gratitude and appreciation for the Holocaust Museum and all the members of the U.S. Senate and U.S. House of Representatives that made this event possible," said SETF Executive Director and UFS Political Director Mouaz Moustafa. "We hope that now the outrage will transform into action."
SETF and UFS extend their gratitude to Holocaust survivor Margit Meissner and Syrian regime torture survivor Qutaiba Idlbi, whose powerful testimony should impel legislators to help put an end to these atrocities by the Assad Regime.
SETF and UFS especially thank the Holocaust Memorial Museum for its tireless work organizing this critical event. It is truly a credit to the Museum's mission to be a living memorial inspiring citizens and leaders worldwide to confront hatred, prevent genocide, and promote human dignity.
Those wishing to view Caesar's photos in Congress may do so next week. The photos will be displayed in the Russell Building Rotunda from July 20th to July 24th as well as in the Rayburn Building Foyer from July 23rd to July 27th.