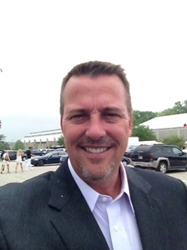 Eric Boorom, CEO, Worth Investment Group, comments "...With his combination of experience, he is a crucial asset as we develop and execute a sustainable business plan for continued success."
Jackson, MI (PRWEB) July 19, 2015
Prior to joining Worth Investment Group, Hilfinger served in many sales leadership positions within the HVAC/R and plumbing industries. As VP of Sales for a manufacturer of copper and plastic fittings and valves in Elkhart, IN, Jim managed a large outside sales organization, national and big box accounts, and developed their new HVAC/R Division. More recently, Jim gained non-manufacturing experience with a large plumbing wholesale distributor in Southern California. Through his combined experience working for a manufacturer then a wholesale distributor, Jim has acquired the necessary perspective and experience to further the objectives of Curtis Marketing, LLC. Eric Boorom, CEO, Worth Investment Group comments, "We believe Jim is the right person to lead Curtis Marketing into the next phase of their growth. With his combination of experience, he is a crucial asset as we develop and execute a sustainable business plan for continued success."
Jim began his professional career with companies in Ohio and Miami, FL, serving in various positions which included aspects of Refrigeration, A/C, Automotive, and Appliance Businesses. His career progressed through a variety of assignments with increased responsibility, including sales, sales management, marketing, product development, training and customer service. While at his recent manufacturing company, his leadership responsibilities included National Accounts, Regional Director, VP of Retail Sales and VP of Wholesale Sales.
Jim earned his BBA, with a concentration in Marketing and Sales Management, from Bowling Green State University, Bowling Green, OH. He has also completed Sales Leadership training courses at the University of Michigan; Ross School of Business, with additional training in negotiations, performance management, lean manufacturing and product marketing management.
About Worth Investment Group, LLC.
Worth Investment Group, LLC, is an operationally-oriented, privately-owned holding company. Worth Investment Group makes controlling acquisitions of middle-market companies headquartered in North America in partnership with management teams which seek to leverage our strategic resources to: achieve operational improvement, accelerate growth through strategic re-positioning, realize scaled benefits through add-on acquisitions, and achieve a leading market position. Founded in 2009, Worth Investment Group is based in Jackson, Michigan.
For more information, please visit our website, http://www.worth-investments.com.