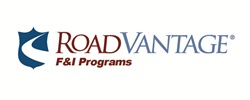 "RoadVantage is distinguished by its vision, its passion and its momentum," said Dave Bouchat. "These qualities are inimitable, and they're what make RoadVantage the fastest-growing F&I provider in the market today. I'm pleased to be part of this team."
Austin, Texas (PRWEB) July 20, 2015
RoadVantage, the fastest-growing provider of F&I programs for the automotive industry, today announced the addition of three industry veterans to its sales team, as well as new regional offices.
Dave Bouchat comes to RoadVantage from DCH Auto Group. A 30-year industry veteran who was with AutoNation prior to DCH, Bouchat has joined RoadVantage as vice president of business development. Phil Mullen, a NADA Dealer Academy graduate with 30 years of retail experience, has joined RoadVantage as national sales manager. Mullen has worked with dealerships as well as agencies, including Fidelity Dealer Services and JM&A. Sue Ann Caruso, also with 30 years of dealership and agency experience including several years with Country Auto Group, has joined RoadVantage as a regional vice president.
"RoadVantage is distinguished by its vision, its passion and its momentum," said Dave Bouchat. "These qualities are inimitable, and they're what make RoadVantage the fastest-growing F&I provider in the market today. I'm pleased to be part of this team."
These additions come upon the completion of the company's fourth consecutive year of rapid growth. RoadVantage has also added three regional offices on the east coast, including Boston, Long Island and Miami. Amid this growth, RoadVantage still maintains its service levels with 97 percent of claims approved within 8 minutes.
"With its innovative programs and commitment to service levels, RoadVantage is setting a new industry standard," said Phil Mullen. "I'm excited to join this team of seasoned industry leaders and to be part of the future in F&I."
Earlier this year RoadVantage introduced True Coverage, a new approach to F&I that reduces exclusions and simplifies contracts (http://www.roadvantage.com/true-coverage). RoadVantage has since introduced a turnkey Compliance Management System to help dealers foster CFPB compliance, and the Total Solution, a bundled product that helps drive profits for both retail sales and lease programs.
"Dave, Phil and Sue Ann are valuable assets to the RoadVantage team as we continue our commitment to providing the best products and service in the industry," said Garret Lacour, CEO of RoadVantage. "They bring almost 100 years of combined industry experience, insights and connections to our team, and we are thrilled to welcome them aboard."
About RoadVantage
RoadVantage is led by F&I industry veterans focused on one goal: building the best automotive aftermarket ancillary product company, from the ground up. The RoadVantage team leverages new technology and a streamlined approach to develop truly innovative products that offer the highest level of customer experience – driving value and profit for all stakeholders, and setting a new industry standard in the process. RoadVantage (http://www.roadvantage.com) offers a full portfolio of ancillary products through certified agents and is headquartered in Austin, TX with regional offices in Boston, MA; Dallas, TX; Long Island, NY; Phoenix, AZ; Miami and St. Augustine, FL.
Contact:
Melissa Anderson
Director of Marketing
RoadVantage
Ph: (855) 955-7623
http://www.roadvantage.com
melissa(at)roadvantage(dot)com
RoadVantage
For more information, please visit http://www.roadvantage.com.
# # #