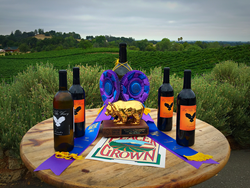 "We've been winning top awards for a few years now, but this esteemed designation elevates our winery onto a new playing field," said Wise Villa's Co-Winemaker Dr. Grover Lee.
LINCOLN, Calif. (PRWEB) July 20, 2015
Located in the rolling hills of Placer County, just 30 minutes from Sacramento, Wise Villa Winery was named Golden State Winery of the Year by the California State Fair Commercial Wine Competition. Competing against 2,800 wine entries from 743 participating wineries across the state, Wise Villa Winery was awarded the prestigious 2015 Golden State Winery of the Year. Wise Villa Winery received the greatest number of high scoring wines in the entire state, solidifying their place among great California wineries for producing the most exceptional wine in the state.
"We've been winning top awards for a few years now, but this esteemed designation elevates our winery onto a new playing field," said Wise Villa's Co-Winemaker Dr. Grover Lee. "To beat out every winery in the state, including globally known regions such as Napa and Sonoma, validates the extensive measures we take to produce a great bottle of wine."
TWEET THIS: .@WiseVillaWinery named Golden State Winery of the Year! #PlacerLife @PlacerWine @PlacerGROWN
Wise Villa Winery was awarded two Best of California awards, four Best of Class of Region, five Golds, seven Silvers, and five Bronzes earning Wise Villa Winery the greatest number of high scoring wines in the competition.
"The microclimates of Placer County have proven to be an amazing region for mandarins, and this esteemed award supports that our region is also an exceptional climate for vineyards," said Foothill Farmers' Market Association and PlacerGROWN Executive Director Carol Arnold. "I am proud of Wise Villa but not in the least surprised. Locals have known about their exceptional wines for years."
Wise Villa Winery's philosophy of great wine starts in the vineyard, serving as a guide for their winemakers. The winery distinguishes itself by holding true to three qualities—purity, balance and complexity—going as far as cold fermenting smaller batches of both red and white wines. This process preserves the natural fruit flavors and aromas to make for a smoother, more flavorful wine. It takes much longer to cold ferment but produces better wine.
"It really comes down to examining every detail, from the grape to the bottle, from the position of each varietal, to hand-picking each cluster at peak ripeness and sorting through the grapes three times for purity," said Co-Winemaker Kevin Luther. "We pride ourselves in understanding the chemistry behind winemaking and exploring the boundaries while never tolerating the mundane to restrain us."
The estate vineyards have several advantages: well-drained loam mixed with decomposed granite creates a strong root system; a perfect climate with sunny days and cool, breezy nights provide a high temperature shift, a key to quality grapes with balanced acidity; rolling hills for better water drainage and air circulation. All these advantages result in much higher quality grapes which then produce exceptional wine.
"I have been privileged to watch Wise Villa grow and respect the passion they pour into their vines, grape selection and the meticulous winemaking process that ensures each bottle meets the highest quality standards," said Placer County Agricultural Commissioner Josh Huntsinger. "The vineyards capitalize on Sierra Foothill's deep, well drained soils and abundant sunlight to produce grapes that form the foundation of every bottle of Wise Villa wine."
# # #
Media Notes:
Related Links
California State Wine Competition
Placer County Wine Trail
About Wise Villa Winery
Wise Villa Winery is a popular destination winery with visitors from all over the state. Wise Villa's on-site Tuscan-style tasting room and bistro is open for food and wine pairing Wednesday - Sunday 11 a.m. - 5 p.m. Friday nights offer wine, dinner, live music and sunset views of the vineyard, 5 p.m. - close (Gates close at 8:30 p.m.). The Bistro also hosts private events and parties, wine and food pairing dinners with the winemaker, as well as special events such as a yearly Barefoot Grape Stomp in the style of the famous "I Love Lucy" episode and themed parties every month. Wise Villa wines can be purchased in person at the winery and bistro, by joining Wise Villa's wine club, online through the website wisevillawinery.com, at Whole Foods Markets across Northern California, Total Wine and CostCo stores in Roseville, Sacramento, and Folsom. To sell Wise Villa's wines at your store or restaurant, please contact Kevin Luther at Kevin@wisevillawinery.com or 916-534-0650.
About PlacerGROWN
Supported by Placer County, PlacerGROWN is the information source dedicated to educating residents about the freshest agricultural products the region has to offer. Through its website, social media channels, and other outreach programs, PlacerGROWN connects community members with the farmers' markets, farms, orchards, ranches, wineries, nurseries, and specialty food stores in one of the most diverse growing areas in Northern California. To discover the bounty of agricultural products produced by farmers who call Placer County home, or for more information about PlacerGROWN, visit http://www.placergrown.org.