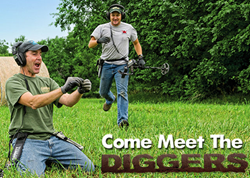 There will be food & drinks, kids treasure hunting activities, meet & greet with the various representatives and TV stars as well as over $30,000.00 in raffle prizes given away throughout the day.
Orlando, FL (PRWEB) July 21, 2015
The return of National Geographic Channel's "Diggers" has been highly anticipated. Their last season which completed in June 2014 left fans eagerly awaiting the premiere of Season 4 which aired Monday night, July 20th. The stars of the show, Tim "Ringy" Saylor and "King" George Wyant, express their passion for history and metal detecting in a most entertaining way that has been viewed by hundreds of thousands of fans in households nationwide. Many have accredited their start into the hobby of metal detecting because of their interest in the show.
This likeable duo has been quite busy, even recently completing a European Tour with Garrett Metal Detectors, a leader in metal detecting technology and one of the most well-known manufacturers in the industry. Now back in the U.S., Tim and George are scheduled to accompany Garrett to the Grand Re-Opening of Kellyco Metal Detectors on August 1, 2015 in Winter Springs, Florida. Celebrating their 60th anniversary, newly remodeled showroom and museum, as well as commemorating the 300th anniversary of the lost 1715 Spanish Fleet, this family-friendly event hosted by Kellyco is expected to bring treasure hunters and metal detecting enthusiasts from around the country.
There is a long list of attendees scheduled to turn out for this celebration, some of which include top executives from each of the leading metal detector manufacturers; First Texas, Garrett, Minelab, and Whites Electronics. This will be the first time ever that all brands will be coming together at a retailer's location for meet and greets, product demonstrations and Q & A.
The "Diggers" won't be the only TV celebrities joining in the fun though. Appearances are also expected from Jason Nowell, Dave Spencer and Gary Drayton all of whom have had a presence on History Channel's "The Curse of Oak Island", as well as Eric Magnuson from "Legend of Superstition Mountains", a newer series which also airs on History. Likewise, Chad Crawford, a Florida native and host of the popular TV series "how to Do florida", who also recently aired a show about the 1715 Spanish Fleet and treasure hunting with metal detectors, will be in attendance.
In addition to brand representatives and TV personalities, there will be tables lining both the inside and outside of Kellyco's warehouse and showroom with numerous displays. From local metal detecting clubs, gold panning demonstrations, and various treasures, including some found by the Schmitt family; famous professional salvagers and treasure hunters whom have discovered an abundance of items from the 1715 Spanish Fleet wreckage.
This event held on August 1, 2015 from 10am - 3pm will be open to the public, and kids of all ages are encouraged to come. There will be food and drinks, kids treasure hunting activities, meet & greet with various representatives and TV stars as well as over $30,000.00 in raffle prizes given away throughout the day. This includes random drawings for prizes from Kellyco's recent Dig & Donate campaign in which they collected over 400,000 pop tabs to donate to the Ronald McDonald House Charities of Central Florida, Inc. A representative from the local Ronald McDonald House will also be present at the event for a formal hand-off of the donation from Kellyco.
For more details about the event including times, address and a list of the festivities please visit Kellyco's website: http://www.kellycodetectors.com/upcoming-events/