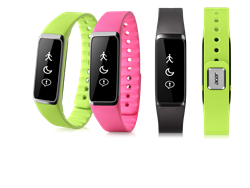 "The Acer Liquid Leap+ was designed to inspire and improve the daily lives of active technology enthusiasts," said Hugo Hernandez, Vice President, Smart Products Business Group, Acer America.
SAN JOSE, Calif. (PRWEB) July 20, 2015
Editors' Summary:

Has clear and bright OLED touch display, comes with three exchangeable color bands
Fitness tracking functions include step, distance, sleep and calories
Includes alarms, call and text notifications, and other advanced features
Syncs with Android, iOS and Windows
Acer America today announced it is bringing its Acer Liquid Leap+ wearable fitness tracker line to the United States. The stylish and sleek device is easy to use, tracks multiple functions and syncs with Windows, Android and iOS operating systems.
Sleek and Functional Design
The Acer Liquid Leap+ keeps track of the key aspects of fitness while providing extra functionality that makes it incredibly useful and fun to use. Stylish and sleek, it's modern and understated with a minimalist, button-free design and an ultra-slim 1-inch OLED touch-screen that looks and feels great on anyone. Plus, it comes with three different colored rubber wrist bands – Charcoal Black, Fuchsia Pink and Lime Green. The bands are extremely durable and can be easily changed.
"The Acer Liquid Leap+ was designed to inspire and improve the daily lives of active technology enthusiasts," said Hugo Hernandez, Vice President, Smart Products Business Group, Acer America. "It's incredibly easy to use for tracking important aspects of health, while it provides additional useful features. In addition, the sleek and stylish design and interchangeable bands look great with a range of styles."
Fitness Tracking and Extra Features
The Liquid Leap+'s qualities go well beyond looks – it's the ideal smart wearable device for active digital users who want to stay connected. An all-around fitness companion, it tracks the user's steps and running distance and active minutes. It can be enjoyed in water up to a meter deep thanks to its waterproof certification and IPX7 rating.(1) Customers can log sleep hours by setting the Liquid Leap+ into sleep mode at the end of the day. The device also tracks calories burned through the calorie tracker in the Acer Leap Manager app. The wearable technology in Liquid Leap+ connects to Android, Windows, or iOS smartphones.(2)
Bluetooth 4.0 low energy controls allow the Liquid Leap+ to be paired with a nearby smartphone for syncing. The connection also gives customers with Android and iOS devices a convenient way to control their music, with functions such as play, pause, previous, and next song.(2) Customers can set custom notifications so the Liquid Leap+ alerts them to incoming calls, emails, text, alarms and calendar events. The device also displays the time and date.
The Liquid Leap+ charges by micro USB and has a long battery life that will last 5-7 days.(3) With a band attached, the Liquid Leap+ weighs just 0.63 ounces (18 grams).
Availability & Pricing
The Acer Liquid Leap+ is available now in the United States via leading retailers and at the online Acer store with a starting price of $79.99.
About Acer
Established in 1976, Acer is a hardware + software + services company dedicated to the research, design, marketing, sale, and support of innovative products that enhance people's lives. Acer's product offerings include PCs, displays, projectors, servers, tablets, smartphones, and wearables. The company is also developing cloud solutions to bring together the Internet of Things. Acer employs 7,000 people and ranks No. 4 for total PCs globally.(4) Revenues for 2014 reached US$10.39 billion. Please visit http://www.acer.com for more information.
© 2015 Acer Inc. All rights reserved. Acer and the Acer logo are registered trademarks of Acer Inc. Other trademarks, registered trademarks, and/or service marks, indicated or otherwise, are the property of their respective owners.
All offers subject to change without notice or obligation and may not be available through all sales channels. Prices listed are manufacturer suggested retail prices and may vary by location. Applicable sales tax extra.
1.) Can be submerged in up to 1 meter of water for up to 30 minutes.
2.) Acer Liquid Leap+ music playback feature is not available on Windows devices.
3.) Battery life depends on daily usage.
4.) IDC 2014