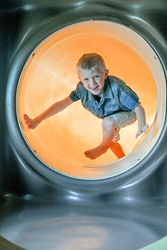 Elephant Armor destroys germs in playscapes within two minutes, but is harmless enough to spray into your mouth.
Phoenix, Arizona (PRWEB) July 20, 2015
The restaurant play center: Parents typically cringe when they think of taking their little ones and thoughts of illness and the cleanliness factor creep up in such close quarters. That coupled with the fact that there is no industry regulation or standard on the cleanliness of play centers makes a parent fear them even more. What if there was a solution or a process that would allow a quick service restaurant (QSR) owner to do more than just surface clean, but disinfect the daily entire hard surface of the play center? A parent would be more apt to visit the center and the restaurant would entertain even more business.
Meet Elephant Armor System – a playscape cleaning and disinfecting system invented by a grandfather named Tom Luzader who was disturbed by the current method and lacks of standards associated with the cleaning of playscapes in quick serve restaurants. The product is based on a non-toxic solution Silver Dihydrogen Citrate, and is the first disinfectant approved by the Environmental Protection Agency in 30 years. Going beyond clean, and beyond sanitation, it kills/destroys bacteria in two minutes and is 100 percent safe. Elephant Armor will kill MRSA, Flu, Norovirus and even HIV in two minutes. The Elephant Armor System is safe and effective. It is so safe and infective that due to its environmental qualities, the Environmental Protection Agency, OSHA nor NIOSH does not require warning language on the labeling and neither require any safety gear when handling and applying.
"The motivation for creating Elephant Armor cleaning system were my grandchildren and I currently have seven," said Tom Luzader, president and founder Elephant Armor. "I was in a QSR with two of the grand kids late one night and the kids begged me to let them go in and climb around in the play center after eating. When they came out I did like so many parents and grandparents, I wiped them down with sanitizing wipes. As the kids were putting on their shoes they restaurant closed the play center for the evening and an employee went in and began the cleaning process. The cleaning process seemed to be just a wipe down with regular cleaning wipes. I left the restaurant that night thinking to myself that there had to be a better, more environmentally friendly and efficient solution than what I had just watched."
Prior to creating Elephant Armor multiple focus groups were held. Luzader, who has owned four different businesses and an entrepreneur by nature, has spoken with the owners of over 200 QSR's. The parents in that focus group were concerned about the bacteria and germ levels, yet they find indoor play centers safer than an outdoor center as there is only one way in and out. The mothers almost spoke with a tone of guilt about letting their kids play in a potentially bacteria laden area, but in the hot summers there are not very many options. The focus group, on their own, voiced a need for someone to be monitoring the cleanliness of the play centers. They did not want the owners of the quick service restaurants telling it was clean. They wanted a neutral third party assuring them that everything possible is being done to keep the area clean and safe, much along the lines of the health department inspecting the kitchen. A few of the findings were as follows:

Over half, 58 percent of parents and grandparents clean their playground themselves.
Digital assets, such as the QSR Website and Facebook are the media where consumers would expect to learn about clean playgrounds.
Over 75 percent of parents and grandparents would visit clean QSRs more often, indicating that a clean QSR can be a way to differentiate and connect with consumers.
57 percent of parents and grandparents would drive further away for a clean QSR, indicating that a clean QSR experience has real value.
"Currently, when inspecting a QSR for cleanliness, an inspector stops at the door. In speaking with several departments of environmental services they just don't know what to do about the play areas. We have swabbed and treated thousands of filthy areas. We use an ATP tester to measure for the presence of bacteria. When testing a surface you want an RLU reading at 30 or below. When we test a surface, typical readings are in the range of 774 prior to application and after a two minute treatment, the RLU will be lowered to a reading of just 18. Now, in as little as 15 minutes a QSR play center can be disinfected daily and as soon as the application is completed the children can climb and run and without worry of harmful or smelly disinfectants in the air," stated Luzader.
Elephant Armor uses PURE Hard Surface disinfectant, along with a testing and application process to ensure surfaces are sanitized and disinfected. The first step is that the restaurant will apply the PURE Hard Surface disinfectant to the playground equipment on a daily basis. The Elephant Armor tests the equipment, verifying the area is disinfected. With a clean test, and daily application, the quick service restaurant earns the Elephant Armor certification and Elephant Armor will do surprise tests throughout the year to ensure the play area is disinfected and maintains the certification.
Once a QSR leverages the Elephant Armor system they get a seal of approval. Rest assured, now we can take the little ones to play and if a QSR has an Elephant Armor Seal of Approval we can be confident that the QSR is safe for play. The product will initially be sold into the quick serve restaurant industry starting with a chain of Burger Kings in the Phoenix area and cost the QSR less than 10 dollars a day.
About Elephant Armor Cleaning System:
Invented by a grandfather who was disturbed by the current method and lack of standards associated with the cleaning of playscapes in public use areas, Elephant Armor was created to be a non-toxic disinfectant process that helps bring back play in a healthier way. The Elephant Armor cleaning system was originally introduced to the quick-service restaurant industry as a way to clean and disinfect their indoor play areas to help with the killing of germs such as MRSA, Salmonella, e.coli, hepatitis, the flu, and even HIV1. The product's active ingredient Silver Dihydrogen Citrate is the first disinfectant approved by the EPA in 30 years. While effective, the disinfectant used in the system is so non-toxic you can even spray it in your mouth. Users (currently quick serve restaurants) simply spray Elephant Amor onto any surface, let it sit for two minutes and then wipe down. For more information, please see http://www.GetElephantArmor.com.