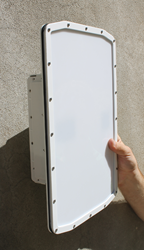 Recent security breaches at Utah power stations and even the nation's capital bring this growing problem into focus
Salt Lake City, UT (PRWEB) July 20, 2015
SpotterRF today announced its move to expanded facilities to accommodate rapid growth on six continents. The company invites BYU and UVU engineering students to join business and government leaders at an open house at its new 23,000 ft. offices at 720 Timpanogos Parkway in Orem, Utah. During the event, security experts from SpotterRF's Logan Harris, Rep. Jason Chaffetz and Dave Porter from AlphaCorp will speak briefly about the rising perimeter protection problems posed by drones and other threats to critical infrastructure nationally and in Utah.
"Recent security breaches at Utah power stations and even the nation's capital bring this growing problem into focus," states Logan Harris, CEO for SpotterRF. "We've come a long way since the Great Wall of China in developing effective perimeter protection for commercial and government applications."
SpotterRF currently seeks exceptional individuals to expand its growing engineering and manufacturing staff. The company's decision to expand in Orem, Utah is based in part on the advanced engineering programs at local universities.
"We hope to attract additional bright Utah technology minds to our ranks to accommodate global demand for SpotterRF compact surveillance radar. We haven't penetrated the penguin market yet in Antarctica, but we are protecting polar bears in Alaska for Exxon," quips Harris.
Kicking off the July 20th open house, SpotterRF's presentation will feature [speakers] Rep Jason Chaffetz. As House Oversight and Reform Committee Chair in April, Rep Jason Chaffetz challenged 32 agencies tasked with protecting the Washington D.C. Area. He chided these agencies for use of "70 year old technologies" and a "failure of imagination" to detect and stop a bold postal worker from flying a small, low flying gyrocopter through 30 miles of restricted airspace to land on the U.S. Capitol lawn.
With the $2.5 billion non-military drone market growing 15 percent per year, the potential threat from inexpensive drones demands an affordable detection option. Low-level drones and other ground threats can be detected at up to several hundred meters over wide areas with affordable compact surveillance radar (CSR). Open House presenters will show how Utah electrical power substations, small airports, dams, bridges and even national and state parks can improve security and dramatically reduce risk associated with perimeter breaches. They will feature case study examples in each area.
RSVP at http://goo.gl/forms/BB44VrwS1U 
About SpotterRF
SpotterRF provides the world's most advanced and effective Compact Surveillance Radar (CSR) system for perimeter security and force protection. Made in the USA and engineered for extreme conditions, SpotterRF technology is the most compact, lightweight, energy efficient, and cost-effective radar for elite warfighters and critical infrastructure requirements. With the successful deployment of SpotterRF in wide-open, all-weather areas like Exxon's Alaska oil fields, Spotter radar expands the range at which perimeter intrusion is detected. SpotterRF radar protects electrical substations, vital dam systems, monitors harbor traffic, secures high traffic bridges, and national monuments. For a data sheet, visit http://spotterrf.com/commercial-products/
Media Contact:
Rita Tennyson, PilmerPR
310-779-9747
rtennyson(at)pilmerpr(dot)com