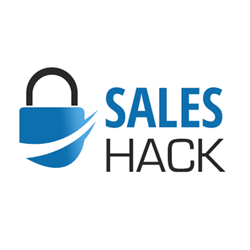 ...bringing together the sales superstars of today in one book, SalesHack, is one of the most rewarding things I can imagine. Chad Burmeister, VP, Sales & Marketing, ConnectAndSell
Denver, CO (PRWEB) July 20, 2015
ConnectAndSell announced today that SalesHack, The Book, containing Sales Hacks from 25 of the best sales authors and speakers in the world today, will be available at one of two events in San Francisco during SalesForce Dreamforce (September 14th through September 18th).
In addition to SalesHack, The Book, a limited edition copy of Zero Time Selling, by Andy Paul, will be available during the Sales Velocity event at the Four Seasons hotel from 2 - 8pm on September 15th. Chris Beall, CEO of ConnectAndSell, has written the foreward for the book and Andy Paul will be not only speaking at the event, but also available to sign books during Sales Velocity 2015 at the Four Seasons.
Speakers include: Jill Konrath, Trish Bertuzzi, Andy Paul, Jim Dickie, Steve Richard, Aaron Ross, and Kraig Kleeman, The World's Greatest Cold Caller.
To register to attend Sales Velocity, during Dreamforce week, on Tuesday, September 15th, visit: http://salesvelocitydreamforce.splashthat.com/
To register to attend the Pre-Dreamforce party you don't want to miss on Monday, September 14th, visit: http://go.outreach.io/Hemingways-Hideout.html
To learn more about SalesHack, The Book, visit the preview page via Amazon.com: https://www.createspace.com/Preview/1173926
"Having been in professional sales for 20 years and worked with a lot of incredible sales leaders, I am very excited, and humbled, to be launching SalesHack, The Book, with Chris Beall and so many sales greats. As an aspiring sales person in the 90's, I looked up to sales leaders like Zig Ziglar, Tom Hopkins and Gerhard Gschwandtner. So for me, bringing together the sales superstars of today in one book, SalesHack, is one of the most rewarding things I can imagine." Chad Burmeister, VP, Sales & Marketing, ConnectAndSell (Twitter: @SalesHack)
About ConnectAndSell
ConnectAndSell delivers live conversations and business meetings on demand, using a combination of patented switching technology and virtual sales agents. On average, ConnectAndSell can deliver a live conversation with exactly the people you're trying to reach in under four minutes. This allows ConnectAndSell customers to accelerate sales growth with their current resources. In 2014 & 2015, ConnectAndSell was voted as the Top Solution Provider by the American Association of Inside Sales Professionals, and also was awarded Top 40 Marketing Tools of 2014 & 2015, and in 2015, was voted as a Top 100 Always On OnCloud Top 100 Private Companies, and received a Silver and Bronze Metal for Sales and Customer Support by the Stevie Awards. Learn more about ConnectAndSell at http://www.connectandsell.com and follow @ConnectAndSell on Twitter.