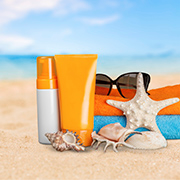 During this year's UV Safety Month and beyond, Lightning Labels is eager to have a hand in promoting awareness through the use of custom labels and stickers
Denver, CO (PRWEB) July 21, 2015
The United States Department of Health and Human Services named July UV Safety Month in a bid to increase awareness about the dangers of UV radiation from the sun's rays. Safety labels from Lightning Labels are a great way to get the word out.
According to the department's Federal Occupational Health website, many people remain unaware of how important it is to protect their skin from the sun, even though the skin is the body's largest organ and acts as a shield against everything from harsh weather to dangerous substances. Custom labels and stickers can help address this knowledge gap by drawing attention to the problem and offering workable solutions.
"Especially at this time of year, many people love nothing more than to go outside and enjoy the sunshine," noted Scott Proctor, vice president of sales at Lightning Labels. "While there's nothing wrong with catching some rays, many individuals simply don't know how to do so in a safe and responsible manner. During this year's UV Safety Month and beyond, Lightning Labels is eager to have a hand in changing this dangerous situation for the better."
Creating Informative Warning Labels
Lightning Labels has the ability produce a whole host of stickers and labels for different products, including summertime staples such as sunglasses, sunscreen and lip balm. Thanks to Lightning Labels' high-resolution printing technology, lengthy cautionary messages can be included on even the smallest warning labels. As detailed by the Department of Health and Human Services, such messages could advise people about a number of different protective measures, including:

Staying in the shade and away from reflective surfaces whenever possible
Being especially careful between the hours of 10 a.m. and 4 p.m., when UV rays are at their strongest
Shielding eyes from the sun's glare with hats and wrap-around sunglasses
Using broad-spectrum sunscreen with a sun protection factor of 15 or higher to safeguard against both UVA and UVB rays, and reapplying it often
Safeguard the Public with Flair Using Custom Stickers from Lightning Labels
Lightning Labels understands that the best custom stickers and labels are both eye-catching and informative. The Lightning Labels sticker creation process ensures every element is crisp and professional-looking, from the easy-to-read text to the vivid color schemes. Lightning Labels understands that putting together a great-looking label is only half the battle - packaging must also stand up to the elements in order to be truly successful. This can be a particular problem with products intended for use at the pool, on the beach or in the sun, as insufficiently durable stickers tend to quickly fade and peel under these harsh conditions. Lightning Labels offers a host of different label materials and laminates, including a number that are resistant to extreme heat, water, oil and light.
Raise awareness of the dangers of the sun and improve UV protection with Lightning Labels.
About Lightning Labels:
Lightning Labels uses state-of-the-art printing technology to provide affordable, full-color custom labels and custom stickers of all shapes and sizes. From small orders for individuals to the bulk needs of big businesses, Lightning Labels is equipped to handle and fulfill custom label and sticker projects of all types. Best of all, like the name implies, Lightning Labels provides a quick turnaround for every customer's labeling needs. Uses for Lightning Labels' custom product labels and custom stickers include food packaging and organic food labels, wine and beverage labels, bath and body labels, and nutraceutical products, such as vitamins, essentials oils, and herbal remedies, as well as event stickers, adhesive window stickers and more. Lightning Labels strongly supports the development of environmentally friendly printing materials and carries EarthFirst PLA, a new kind of green label material made from corn instead of petroleum. While operating as a high-tech printer, Lighting Labels prides itself on its personalized customer service. Lightning Labels provides one stop shopping for all of your custom label needs. For more information and to place orders online, visit LightningLabels.com. For the latest in packaging news and labeling promotional offers, find Lightning Labels on Twitter (@LightningLabels), Facebook, Pinterest, Google and LinkedIn.