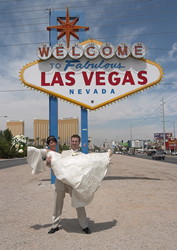 Clark County raised marriage license fees to fund the promotion of Las Vegas Weddings.
Las Vegas, Nevada (PRWEB) October 14, 2015
Wedding day looks are shifting. These days, more and more couples planning to the tie the knot are spurning the boho-chic and beach-style weddings, so popular over the last few years, in favor of something more timeless and elegant. And, according to Neda Pazuki, Owner of Las Vegas-based wedding planning service Glitterati Weddings & Events LLC – who keeps her eyes fixed firmly on the latest trends – this change has even spread to Las Vegas, home of the drive-through wedding. But not even Pazuki is exactly sure of the reasons behind the change.
Some people think it's because the economy's improving, so couples have a bit more money to spend, she told us. Others think it's all down to the popularity of certain films and TV programs like Suits, Downton Abbey, and The Great Gatsby.
"I think popular culture has played a part," begins Pazuki. "But today's couples know that a big tiered wedding cake makes a bigger statement than a plate of cupcakes or cake pops," she explains. "On their wedding day, couples want an experience that's totally different from their day-to-day lives – a really special dress, regal jewelry and a venue with a bit of glamour. And they also realize that the classic wedding is the best way to create brilliant memories, but are also keen on blending in a modern feel as well" she adds.
We asked Pazuki, who's full of stories and information on all kinds of weddings, about the essential ingredients for a formal wedding, and whether or not it has to cost a fortune.
She told us that obviously some things cost a bit more, particularly if brides want to push the envelope with an elaborate wedding gown and jeweled tiara, or if couples have set their hearts on extravagant décor. But lots of the elements are about small touches and attention to detail, she explained, and those don't have to cost any more for a formal event than any other sort of wedding. With connections to the best wedding vendors and venues in the Las Vegas area, as well her experience in menu planning, budgeting and aesthetic design, her company can offer couples excellent value for money, whatever type of wedding they choose.
The best thing of all about using a wedding service like Glitterati Wedding, according to Pazuki's growing list of customers, is how the personalized service can help couples decide the exact look and feel of their wedding and plan and execute it down to very last detail. So on the day itself, couples can be completely stress-free and enjoy each and every moment.
Bridal Couple's are being offered free consultations so there is no better time to plan than now. Have Glitterati create the wedding of your dreams to treasure forever. To book an appointment, please contact Neda Pazuki on 702-417-3219, at neda(at)glitteratiwedding(dot)com or via the contact page on the website at http://www.glitteratiwedding.com.