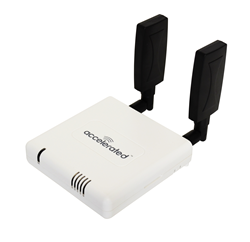 Case Study: Peak season pop-up stores need to quickly establish secure, reliable and cost-effective connectivity.
Tampa, Florida (PRWEB) July 22, 2015
Accelerated announced today that it will be showcasing its next generation cellular router products at the IOT Evolution Conference & Expo, to be held August 17-20, 2015, at Caesars Palace in Las Vegas, Nevada. At IoT Evolution, attendees will learn how Internet of Things (IoT) technologies can be utilized to significantly improve business processes, minimize risk, spur innovation and drive revenue.
At the conference, Accelerated will be providing a live demonstration of their 6300-CX Cellular Extender appliance in the "Battle of Platforms" competition on Monday the 17th. Tom Butts, CEO, will showcase primary cellular connectivity and cellular failover for IOT, including innovative management of IOT connectivity through the cloud. Accelerated is also a finalist in AT&T's Fast Pitch where Tom will showcase Accelerated's innovative and secure Emergency Remote™ SMS technology for remote IOT sensors.
Jason Dorough will be taking attendees through a current live case study where Accelerated connectivity solutions are being used to connect retail pop-up stores to headquarters through the Internet. Such stores are common during the peak shopping seasons where large retailers may need to quickly establish temporary stores in available retail space, such as shopping malls. Providing consistent wireless coverage with reliable Internet connectivity for these temporary locations can be a challenge. Accelerated solves this business challenge by deploying a 6300-CX Cellular Extender, an enterprise grade cellular router, which supports the ability to optimize the installation location to enhance Cellular Data connectivity and performance.
And finally, Matt Ramsay is a panelist on August 17th in "The Core of Securing Networks" as well as on August 18th for "Securing Embedded Devices in the Industrial Internet of Things". Matt will discuss how M2M and IOT type devices can connect to the Internet in a secure way and how they can be managed securely and remotely in a scalable fashion.
Accelerated invites existing customers and prospective clients to come review its next generation release of its connectivity and security appliances. Accelerated will be showcasing the 5301-DC Dial-to-IP™ Converter connectivity solution, the 6300-CX cellular extender and the recently announced 5400-RM Out of Band Cellular Remote Manager appliance.
Finally, there will be a surprise new product announcement scheduled for the show on August 18.
Tom Butts, Jason Dorough and Matt Ramsay will be involved in a number of press interviews and analyst meetings and invite you to come visit booth 313.
About Accelerated™
Accelerated is an innovator in global cellular, cloud and network communications, and offers industry-leading hardware and software solutions that expand primary and backup data connectivity and management capabilities. Since the creation of its flagship product NetBridge in 2006, Accelerated continues to innovate its line of cellular hardware, network management software and virtual private network (VPN) technology. Accelerated offers a range of Machine to Machine (M2M) and Internet of Things (IoT) communication technologies including its Dial-to-IP™ Converter and custom OEM solutions, in addition to its the LTE Cellular Extender Model 6300-CX, a compact, high-performance wireless router/modem and the 5400-RM Out of Band (OOB) Cellular Remote Manager. All Accelerated products can be centrally managed using Accelerated View™ cloud-based network management software. Accelerated Concepts, Inc. is headquartered in Tampa, Florida, with offices in Chicago, Illinois and Brisbane, Australia. For more information, visit Accelerated.com.
Media and Analyst Contact:
media(at)accelerated(dot)com