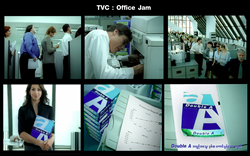 'Paper jams lower productivity, cause delay, stress and frustration. People always blame the copy machine but the primary cause of paper jams is poor quality paper', said Mr. Thirawit Leetavorn, Senior Executive Vice President of Double A
Yangon, Myanmar (PRWEB UK) 20 July 2015
Double A has launched a new TV commercial in Myanmar called Office Jam on 19 July to remind office workers that choosing the best quality paper would help reduce paper jams and stress.
Double A's 'Office Jam' TV commercial is centered on the idea that 'it's not the copier, it's the paper'.
"Double A has launched the Office Jam TV commercial to address one of the most common problems faced by office workers, paper jam. Paper jams lower productivity, cause delay, stress and frustration. People always blame the copy machine but the primary cause of paper jams is poor quality paper. Through Office Jam TVC, Double A aims to influence the purchasing decisions of our key consumers in Myanmar and encourage them to select the best paper", said Mr Thirawit Leetavorn, Double A Senior Executive Vice President.
Double A paper has a super smooth surface and is bulkier than most papers, thus it does not get stuck in copy machines. This quality is assured in the form of Paper Trees from KHAN-NA or trees grown by 1.5 million Thai farmers on the empty land between rice paddies, which deliver 30 million fibers per gram, one of the highest in the paper industry.
Myanmar's leading TV stations have begun airing the Office Jam on 19 July. For six weeks, it will be supported by advertisements in both local daily and weekly journals, and out of home (OOH) such as truck painting. Double A branded trucks with 'thumbs up' image and the message "choose the best paper" will roam in Myanmar's key cities during the campaign period to further extend the message to the public.