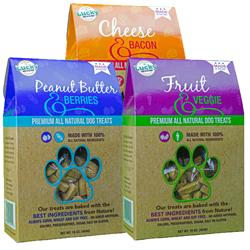 Introducing these grain-free flavors will respond to a current demand in the market.
HARVARD, IL (PRWEB) July 20, 2015
Lucky Pet Brands will showcase its new grain-free fish and grain-free duck Lucky Dog® treat flavors at the 2015 SuperZoo Pet Show.
"Introducing these grain-free flavors will respond to a current demand in the market," says Mike Pierce, Co-Founder of Lucky Pet Brands. "Grain-free is a strong trend that we don't see going away anytime soon. Fish and duck are also very popular flavors both in the United States and abroad."
Lucky Pet Brands also produces their Made in USA dog treats in a variety of other nutritious flavors, including: Cheese & Bacon, Fruit & Veggie, Peanut Butter & Berries, Low-Fat Apple Cinnamon, and Low-Fat Sweet Potato & Pumpkin.
About Lucky Pet Brands
Lucky Pet Brands has over 15 years of experience in producing and formulating whole food, all-natural pet snacks for cats, dogs, birds and small mammals. Every treat is produced in an FDA approved facility in Northern Illinois and contains the highest quality ingredients 100% sourced in the USA. The company's goal is to produce whole food pet snacks that have the perfect balance of taste and nutrition for pets of all sizes. Each formula is created without adding additional sugar, salt, preservatives, by products or gluten. For ordering and general product info contact: info(at)luckypetbrands(dot)com.
About SuperZoo
Produced by the World Pet Association, SuperZoo is a non-profit event, with proceeds invested back into the industry in the form of legislative advocacy, consumer marketing campaigns promoting responsible growth and development of the companion pet, product and services industry, and programs that advance the knowledge of those currently employed in or entering the pet retail industry. By participating in SuperZoo, you will not only benefit your organization, but will help secure your industry's future. For more information about the World Pet Association and its efforts to advance the industry, visit: worldpetassociation(dot)org.