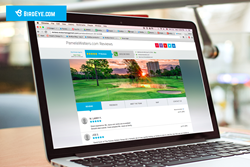 With BirdEye's cutting edge technology we're able to increase real estate agent reach and conversion — they have a leg up in an industry where reviews and ratings now rule the customer buying decision.
Sunnyvale, CA (PRWEB) July 20, 2015
Yurz, a digital marketing agency working with 30,000 real estate agents, has partnered with BirdEye, a leader in business reputation marketing and customer experience. Under this agreement, Yurz has already on-boarded 2,000+ realtors on the BirdEye platform, creating a stronger online presence and reputation for these agents.
"The real estate industry is still clinging onto outmoded and out-of-touch marketing strategies like bench ads and mailers," said Jeff Essebag, CEO at Yurz. "We're helping these realtors cross the chasm and adopt modern tools for high quality online presence, strategic search engine placement, social media engagement, and comprehensive reputation marketing. With BirdEye's cutting edge technology we're able to increase their reach and conversion — they have a leg up in an industry where reviews and ratings now rule the customer buying decision."
The BirdEye platform makes it easy for real estate offices to get new client reviews, and then amplify the best reviews throughout the Internet, where prospective homebuyers and sellers are making their decisions. With BirdEye, real estate agents are able to:

Monitor their online presence and reviews on 50+ sites
View and manage all of their reviews from a single dashboard
Automatically acquire new authentic reviews from clients via SMS, email and mobile
Get direct reviews on top sites like Google
Rank high on Google search with a positive reputation
Auto-promote their best reviews on their website and on social channels, like Facebook and Twitter
Syndicate authentic reviews to top directories with 140M unique users
"We're excited to work with the Yurz team to better connect the real estate ecosystem – to enable homebuyers and sellers select the best realtors as they make one of the most important decisions of their life," said Jeff Einstoss, director of business development at BirdEye. "Realtors now have a comprehensive solution to reach and engage more customers using the marketing power of positive reviews."
Availability
See how successful real estate agents are benefiting from BirdEye platform. Request a demo at http://birdeye.com/free-demo or 1-800-561-3357 ext. 1.
About BirdEye
BirdEye (birdeye.com) is a leader in Business Reputation Marketing and Customer Experience. The BirdEye platform allows businesses to amplify their online reputation to get more word-of-mouth referrals, leads, and repeat customers. Businesses monitor reviews from all major sites, gain new reviews, manage customer feedback, and automatically promote their good reputation across the web, social media and search engines. Enterprises use BirdEye analytics and competitive insights gleaned from customer feedback to fine-tune products, services and operations. The BirdEye platform powers 500K businesses and 10M+ reviews. Based in Sunnyvale, CA, BirdEye was founded by alumni from Yahoo, Google, Amazon and Cisco.
About Yurz
Yurz (yurz.com) supplies integrated marketing services to real estate companies globally. Yurz's web experts provide a fully custom, mobile responsive website, as well as Google and Bing placements complete with specific search terms exclusive to their territory. Additionally, real estate agents looking to embrace the full Yurz experience opt for the VIP Media Package, which also includes regular posting on a Facebook business page, an in-stream YouTube commercial, and reputation management via BirdEye. The Yurz crew generates nearly everything in-house, which means clients are able to get complete customization, top-notch quality, and an affordable price all in one turnkey package.
For more information, contact William Moeller
william(at)birdeye(dot)com | 408.457.1348 | 800.561.3357 | http://birdeye.com