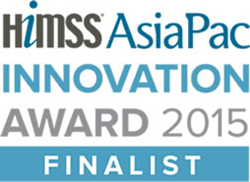 Auckland, New Zealand (PRWEB) July 21, 2015
Healthcare is at a crossroads, many providers cling to old inefficient systems that delay patient care. The HIMSS (Healthcare Information and Management Systems Society) is a global society that encourages better healthcare through technology.
The largest organisation of its kind, HIMSS encompasses over 52,000 individuals in healthcare, government and other related sectors worldwide as well as 600 corporations and 250 not-for-profit partner organisations.
This year at the AsiaPac conference 1500 delegates from more than 30 countries will gather to exchange ideas, network and recognise the efforts of companies improving healthcare through technology.
The AsiaPac15 Innovation Awards
Winscribe Text has been selected as one of 6 finalists HIMSS AsiaPac Innovation award. The awards will feature Winscribe Text alongside other health IT devices and applications that solve everyday challenges in healthcare. Applications are judged on their creativity and how they enhance the quality of care or experience for patients.
Winscribe Text & The Transformation Of Medical Documentation
At the awards Winscribe aims to showcase the flexibility, compatibility and power of Winscribe Text. The platform combines elements of Speech recognition, document creation and medical reporting to offer hospitals a way to create, send, store and find documents more efficiently than has ever been possible. More effective document management has allowed Healthcare providers using the Winscribe Text system to shift focus away from administration and into improving client care.
Looking Towards September & Beyond
Despite being relatively new to the AsiaPac market, Winscribe Text is already producing impressive results for a number of healthcare providers worldwide. A number that Winscribe hopes to grow in 2015.
The Innovation Award will be presented at the HIMSS AsiaPac15 conference in Singapore. The conference runs from 6th - 10th September.