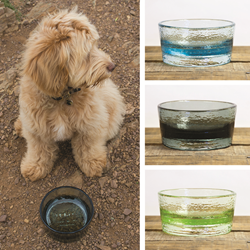 There is no bowl like it currently available in the marketplace.
Berkeley, California (PRWEB) July 21, 2015
PawNosh, the leading recycled glass pet bowl brand and manufacturer, today at SuperZoo introduced a new line of glass pet bowls called the PawNosh "Zorra" bowl. Lighter in weight and with a lower MSRP than their existing product lines, the Zorra glass bowls are designed to meet the overwhelming request by pet retailers and designer home furnishing retailers for PawNosh to offer a wholesale product line.
While most pet food and water bowls are plastic, stainless steel or ceramic, PawNosh bowls are made from glass, which is the only food and beverage packaging material generally recognized as safe by the U.S. Food and Drug Administration. All PawNosh glass bowls are made from 100% post-consumer recycled glass that is sourced in the USA. The bowls are completely non-toxic, exceedingly durable enough to withstand day-to-day use, and designed and handmade in the USA.
The debut wholesale-only product, the PawNosh "Zorra" bowl, is designed for use by one to two cats, or one small dog up to 25 pounds. The Zorra bowl is available in three vibrant colors: ocean, pear, and twilight. Each bowl weighs approximately two pounds and is packaged in an innovative box that both showcases the vibrant color of the bowl and communicates the many product benefits to make it easy to sell at point of sale.
"We're very excited to launch the PawNosh Zorra bowl at SuperZoo this year," says PawNosh co-founder, Sachi Ushihara. "I think pet store owners and buyers will agree that there is no bowl like it currently available in the marketplace. We worked diligently to create a non-toxic, durable, beautiful, and sustainable product that is still made in the USA and supports the U.S. manufacturing industry."
Additional details about the new PawNosh Zorra glass pet bowls can be found at http://www.PawNosh.net. The bowls can also be seen in-person this week at PawNosh's booth #9155 at SuperZoo at the Mandalay Bay Convention Center in Las Vegas, Nevada.
About PawNosh
PawNosh is the leading recycled glass pet bowl brand and manufacturer in the USA. PawNosh aims to bring new and innovative products to the marketplace that meet the following three criteria: 1) made in the USA from materials also sourced in the USA, 2) leverage materials that have been recycled or upcycled, and 3) non-toxic and maintain the highest level of safety standards. PawNosh strives to change the way people see pet bowls. For more information about PawNosh, please visit http://www.PawNosh.com for the consumer website, or http://www.PawNosh.net for the wholesale-only website.