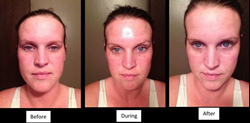 Creative Silk introduces for the first time Overlays, organic preforms that work with functional creams for enhanced anti-aging results
Fremont, CA (PRWEB) August 04, 2015
For advanced anti-aging skincare, Creative Silk is launched as a new product brand for the face and neck. Differentiating itself from other anti-aging products on the market, Creative Silk is unique in that it introduces for the first time the Overlay, which is a material preform of organic elements that works in conjunction with functional creams to achieve anti-aging results. The Creative Silk Overlay, when activated by a water mist in a patented process, undergoes a rapid phase transition from a solid state to a gel, thereby conforming to surface layers, ultimately resulting in improved firmness and tone, reducing fine lines through a smoother appearance.
Designed for the face and neck, the introductory Creative Silk anti-aging product kit includes five sets of ten hydrophilic Overlays, hydrating cream, and hydrating spray. To begin the process, the hydrating cream is applied uniformly and then moistened with the hydrating spray. The Overlays are then distributed over the face and neck, and subsequently water-activated by the hydrating spray to conform in seconds, achieving a uniform gel layer. After a drying period, the Overlays transition to a solid state, thereby achieving a microscopically perfect enclosure of the hydrating cream to enable a contoured lift with associated tightness. To remove the Overlay, a gentle peel or simple water wash concludes the experience. The overall process, in conjunction with the hydrating cream, smooths and firms the upper skin layers of the face and neck.
"The Creative Silk anti-aging product is revolutionary as the Overlays, which comprise a transparent contour when activated, encapsulate a hydrating cream to optimize its dermal interaction. The result is rejuvenating and effective, providing unique capability and benefits neither offered nor achievable by competing anti-aging products," notes the developer and distributor of Creative Silk, a premium brand of Transfer Devices.
As it is unique, the process and materials of Creative Silk are patented both in the US and internationally, achieving an anti-aging effect that is further coordinated with functional creams to optimize performance. The activated process, which is 100% money-back guaranteed to contour firmly to the stratum corneum, including the undulating transitional regions that typically are problematic, such as the chin and eye areas, and especially the neck area, reduces fine lines to improve appearance. It is applicable to all types and tones of skin and is designed to provide benefits the first time, and, with daily use over a period of two weeks, achieves near maximal results.
The introductory product is available on-line as a kit at http://www.creativesilk.net, which provides further information on the benefits and results of Creative Silk.