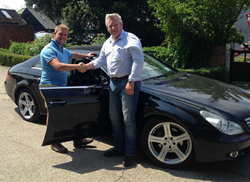 Car 4 Cash will beat any written price from a competitor by £100 when you sell your car to them!
(PRWEB UK) 22 July 2015
Car 4 Cash, a recently established car buying company with its sights focused on the online market, is well on its way to the top. With the company's directors - Sonny Mileham and Paul Stubbs - having spent more than 20 years in the used car dealership industry, they certainly have the knowledge and experience necessary to keep themselves one step ahead of the competition. As well-experienced car buyers, they believe the future of used car dealers lies within the power of the internet, and having already established themselves in the online market, they're proving they have what it takes to pave the way forward.
As much as they may be focusing on the future, Sonny and Paul have not forgotten about the essentials, and are looking to set themselves up in over 120 locations throughout the UK within the next 3 years. The company is currently based in Grays, Essex, and expanding to Enfield, North London and Market Harborough, Leicestershire. Following their expansion, they will be moving to the North, aiming to expand even further to locations in Rochester, Leeds and Birmingham over the coming 3rd and 4th Quarter in 2015.
Car 4 Cash specialises in selling your car - any car in fact valued at £2,000 to £1,000,000 - and plan to become one of the major players in the car buying industry across the UK over the next few years. They aim to accommodate any car make and model that is currently being driven in the UK, and make sure they keep up with the market trends. Currently, Car 4 Cash are buying cars of more the 40 different makes including Audi, BMW, Ford, Honda, Mercedes Benz, Peugeot, Renault, Toyota, Vauxhall and Volkswagen. They are also interested in sports cars such as Maserati, Porsche, and even TVR. Car 4 Cash pride themselves on being the most flexible car buying service in the South of England, and offer to beat any competitor on cash price by £100.
If you're wanting to sell your car today- Car 4 Cash offer advice not only for selling through them, but also through the conventional methods. However, there is no denying Car 4 Cash are simplifying it all. They'll source the highest bidding buyer, sort all the complicated bits, and get your money straight to your account via a bank transfer. The once daunting process of selling your car becomes easy and painless. All you need to do is provide your registration number and miles, and Car 4 Cash will give you a tailored valuation for your vehicle. Once you have received your valuation, an appointment to visit Car 4 Cash will be arranged, your car will receive a quick check over, and the rest is history. Payment will be sent through as quickly as possible. Selling your car to Car 4 Cash also means a complimentary ride home.
Visit Car 4 Cash at their website http://car4.cash or call them on 0330 900 1313 to get a tailored valuation and book an appointment. They are open 9am till 9pm 7 days a week.
You can also follow any announcements of branch expansions or news updates by viewing their social media Facebook or Twitter pages.