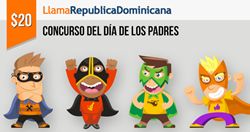 Atlanta, Georgia (PRWEB) July 22, 2015
LlamaRepublicaDominicana.com starts celebrating Fathers' Day earlier this year. Why? Because fathers deserve much more than a special day, they deserve a week. That's why LlamaRepublicaDominicana.com has prepared a bag full of goodies ready for Father's Day.
Chronologically, it includes:

a Facebook contest that allows them to find out what type of father their Dad is and that offers 3 prizes of $20. The winners may use the prize to call their dads back home in the Dominican Republic.
a special promotion to celebrate Father's Day, whose keyword is flexibility: customers may choose either $2 bonus on Voice credit orders or 5% discount on Mobile Recharge orders sent to the Dominican Republic.
LlamaRepublicaDominicana.com Facebook contest
The contest invites LlamaRepublicaDominicana.com customers to take a funny quiz that will reveal what type of dad they have. All customers have to do is to like LlamarepublicaDominicana.com Facebook page and the quizz post. Mainly, the quiz shows that dads can be: Buddies, Joking gurus, Sirs Helicopter and Fixo Dads. Besides being funny, the quiz also rewards 3 of the participants, on a random selection mechanism. Each prize is worth $20 that customers may use to call their dads and all their loved ones in the Dominican republic.
The contest starts on July 20th and ends on July 23rd (23:59 EST), and the winners will be selected on July 24th.
LlamaRepublicaDominicana.com special promotion
In case customers want to win for sure, they may place a voice credit order or send an international top up. What's the prize? Either $2 bonus on Voice credit orders or 5% discount on Mobile Recharge orders placed starting on July 23rd until July 25th.
The standard rates on calls to the Dominican Republic are the following:

2.5 ¢/min when calling landlines
7.9 ¢/min on calls to all mobiles
This means the promotion offers 80 extra minutes, in case customers are calling landlines or 25 extra minutes, in case they are calling mobiles.
The calling process is fast and easy, calls may be placed from:

KeepCalling app for international calls and SMS, which is available for free in PlayStore and AppStore.
Any landline, mobile or even payphone in the world, through local or toll free access numbers.
Any PC with Internet connection, through the Web Call app available in customers' accounts.
Beside Voice Credit, LlamaRepublicaDominicana.com also offers Mobile Recharge, a service through which customers can recharge mobile phones anywhere in the world. The process is fast and secure and the credit reaches its destination instantly. The mobile operators available for recharges to the Dominican republic are Claro, Orange, Viva, Tricom and Moun.
To feel closer to their loved ones, customers may also access the Virtual Number service, a monthly subscription created for the benefit of people back home. Thus, anyone calling the customers' Virtual Number will pay the regular rate of a local call.
LlamaRepublicaDominicana.com is available both in English and Spanish, so customers can navigate using the language that is more familiar to them. Within the same purpose of finding easily the information needed, the website also offers 24/7 Customer Support, that may be contacted by email or phone.
About LlamaRepublicaDominicana.com:
LlamaRepublicaDominicana.com is an interactive website designed by KeepCalling, a global telecommunications company registered in 2002 in USA. Presently, KeepCalling provides its services to hundreds of thousands of consumers and businesses, with a focus on customer satisfaction. KeepCalling has been listed by Inc 5000 in top 20 telecom companies in the USA for the last 4 years. In 2014 the company was designated the 18th fastest growing company in the telecommunications industry in USA with a revenue increase of over 600% from 2010 to 2013.