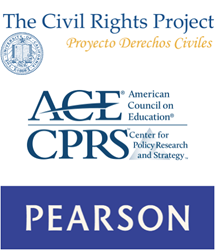 Washington, DC (PRWEB) July 21, 2015
The American Council on Education's (ACE) Center for Policy Research and Strategy (CPRS) will review the findings of its groundbreaking new report Race, Class, and College Access: Achieving Diversity in a Shifting Legal Landscape at a live-streamed convening this morning from 8:15 a.m. to 2:00 p.m. in Washington, DC.
The report, co-authored by Pearson's Center for College & Career Readiness and the Civil Rights Project at the University of California, Los Angeles (UCLA), examines contemporary admissions practices at four-year colleges and universities across a wide range of selectivity in the context of recent legal challenges to race-conscious admissions, including the pending U.S. Supreme Court case Fisher v. University of Texas at Austin. The report offers insight into evolving practices institutions employ as they seek to further access and diversity.
"Now more than ever, institutional leaders require the knowledge and tools needed to meet mission-critical diversity goals. This first-of-its-kind study reflects on-the-ground practice by admissions and enrollment management offices at 338 institutions enrolling 2.7 million students nationally," said Lorelle Espinosa, assistant vice president of CPRS. "Our aim is to complement the great work being done by our partners and others to ensure institutions are in the best position to further diversity goals now and in the future."
Following a presentation of findings by the authors, a series of panel discussions will be led by distinguished diversity scholars, legal experts, admissions and student affairs practitioners and institutional leaders. Click here for a full agenda.
"Diversity matters to higher education institutions. It matters across sectors, selectivity ranges, and university contexts. Our data are clear on that point," said Matthew Gaertner, senior research scientist at Pearson's Center for College & Career Readiness. "But we also see that the diversity strategies institutions are pursuing most frequently are not always the initiatives receiving attention from researchers and the press. We need better alignment across those constituencies—practitioners, scholars and the media—if we hope to move best practices forward and help institutions advance access and diversity."
The report is structured around three key findings:

The most widely used diversity strategies receive the least attention. Strategies such as reduced emphasis on legacy admissions, test-optional admissions and percentage plans are the least widely used yet receive the most media and research attention. More common strategies include targeted outreach and recruitment to minority, low-income, and community college students, yet these do not receive equal press or research attention.
Striving for racial/ethnic diversity is not an "either-or" but a "both-and" proposition. Institutions that consider race in admissions decisions use other race-conscious and race-neutral diversity strategies more often and find them more effective than institutions that use race-neutral strategies alone. Race-conscious and race-neutral approaches can and do coexist. Some of the most widely used and effective diversity strategies at institutions that consider race include targeted recruitment and yield initiatives for minority and low-income students, summer enrichment programs and targeted financial aid awards.
Reactions to the U.S. Supreme Court's 2013 Fisher decision are still evolving, and more research is needed. Post-Fisher changes in how admissions offices approach enrollment data, admissions factors and diversity strategies have been modest among institutions that currently consider race in admissions decisions. Some have placed increased importance on the recruitment of community college transfers and students from low-income backgrounds. Institutions across the selectivity spectrum require research and guidance in the post-Fisher context. Moreover, the Supreme Court's June 2015 decision to rehear the Fisher case signifies that these issues are far from settled.
"One of the challenges for American higher education in the wake of the Fisher decision has been the lack of effective exchange of research, data and plans," said Gary Orfield, distinguished professor and co-director of the Civil Rights Project at UCLA. "Advancing equal educational opportunity requires sharing lessons learned in pursuit of promising diversity strategies. The story of affirmative action law and policy is still unfolding and researchers must respond to the needs of institutions. Our data show how the more selective institutions, of which 60 percent consider race in admissions, need additional research and guidance on critical mass."
The in-person and live-stream event will be hosted by ACE and is co-sponsored by Pearson's Center for College and Career Success, the Civil Rights Project at UCLA and Lumina Foundation. The National Association for College Admission Counseling, American Association of Collegiate Registrars and Admissions Officers, the College Board and EducationCounsel also collaborated on this work.
Follow ACE on Twitter at @ACEducation and join the conversation at #DiversityMatters.
ACE Center for Policy Research and Strategy
The American Council on Education's Center for Policy Research and Strategy (CPRS) pursues thought leadership at the intersection of public policy and institutional strategy. CPRS provides senior postsecondary leaders and public policymakers with an evidence base to responsibly promote emergent practices in higher education with an emphasis on long-term and systemic solutions for an evolving higher education landscape and changing American demographic.
Pearson's Center for College & Career Success
The Center for College & Career Success works to identify and measure the skills needed to be successful in college and careers, determine pathways for students to be ready, track progress along the pathway, and evaluate effective ways to keep students on track. The center is part of Pearson's Research & Innovation Network, which was created help address the most pressing questions facing teachers and students. Pearson brought together top education experts in the Research & Innovation Network with the mission to research and invent capabilities and tools educators need to create engaging, meaningful, personalized learning that leads to student success. The Research & Innovation Network is led by Dr. Kimberly O'Malley, Senior Vice President of Research and Development, and supports six centers. For more information about the Pearson's Research & Innovation Network, visit researchnetwork.pearson.com
The Civil Rights Project
The Civil Rights Project (CRP) at the University of California Los Angeles works to create a new generation of research in social science and law on the critical issues of civil rights and equal opportunity for racial and ethnic groups in the United States. It has monitored the success of American institutions in equalizing opportunity and has been the authoritative source of segregation statistics. CRP has commissioned more than 400 studies, published more than 15 books, and issued numerous reports from authors at universities and research centers across the country.
Contact: Megan Cotten
(202) 939-9433
(202) 557-9742 (cell)
mcotten(at)acenet(dot)edu