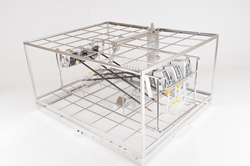 Charleston, South Carolina (PRWEB) July 21, 2015
Belimed, announced today that their WD 290 washer/disinfector, together with a new specialty robotic rack has been confirmed acceptable for use in the Automated cleaning process for Intuitive Surgical's EndoWrist® surgical instruments designed for use with the da Vinci® Xi™ Surgical System. Belimed Inc., part of the Belimed Group, a world leader in cleaning and sterile processing systems and solutions in health care and life sciences, has a 40-year plus commitment to providing continuous improvements and infection control solutions within sterile processing departments worldwide.
Belimed's popular WD 290, together with a new dedicated Xi robotic rack, can now be used with the labor-saving Automated cleaning/disinfection process for Intuitive Surgical's da Vinci Xi series EndoWrist surgical instruments and accessories. Only a handful of washer/disinfectors currently on the market are listed as compatible in Intuitive's Reprocessing Instructions Appendices.
The WD 290 with Xi rack offers full Automated wash, rinse, decontaminate, and dry functions, saving clinician time and increasing facility throughput over purely manual-based cleaning techniques. Due to its pass-through design, the WD 290 also follows standardized SPD workflows, delivering decontaminated instruments straight to the clean-side without the need for special dirty-side handling or the potential for re-contamination.
Please refer to the latest Intuitive Surgical reprocessing instructions for detailed descriptions of the procedures for reprocessing EndoWrist instruments and accessories designed for use with Intuitive Surgical's da Vinci Surgical Systems.
When reprocessing Intuitive Surgical instruments, it is important that the healthcare facility follow all directions in the latest Intuitive Surgical Reprocessing Instructions as well as any instrument specific instructions and supplements that may come with individual instruments.
About Belimed
Belimed is a leading supplier of technology-based cleaning, disinfection and sterile processing products and services for the medical and pharmaceutical industries, hospital and healthcare systems across the Unites States and around the world.
Belimed, Inc., http://www.belimed.com, ensures absolute customer confidence in their sterile processing areas by providing solutions designed to increase efficiency while ensuring high quality reprocessing, decontamination and sterilization results.
Belimed delivers effective reprocessing solutions through its exceptional design, installation and service teams. Continually striving to address customers' challenges, goals and requirements, and meeting a higher set of standards, Belimed is healthcare's trusted reprocessing partner.
The Belimed Group: A Company of the Metall Zug Group
The Metall Zug Group focuses on its three core businesses and is managed as an industrial group. It is headquartered in Zug (Switzerland) and has a staff of more than 3,500 employees. The household appliances business unit includes the Swiss market leader V-ZUG AG, SIBIRGroup AG and Gehrig Group AG. The infection control business unit is represented by the Belimed Group, and the Schleuniger Group makes up the wire processing business unit.
Contact:
John Nies, Marketing Product Manager, Belimed US
Belimed Inc.
http://www.belimed.com
john.nies(at)belimed(dot)com
843-216-7424