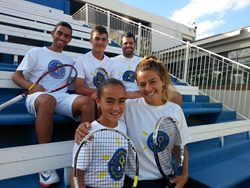 New York, NY (PRWEB) July 22, 2015
The Israel Tennis Centers Foundation announced final plans for a major fundraising push in key ITC markets during August. This includes a special exhibition at the Citi Open in Washington, DC on August 4th.
"Thinking back to the tumultuous events of summer 2014 in Israel, we are grateful for the relative calm currently being experienced throughout the country," said Jacqueline Glodstein, Vice President/Global Development. "However, that does not mean for one second we can let our guard down or feel complacent about the needs of those Israeli children who continue to look for the support of the ITC to learn life skills and remain on track to succeed in life."
In fact, according to the very latest study just released by the Taub Center and published in the Jerusalem Post, the plight of Israeli families remains as critical as ever due to:
•Escalating food prices
•A healthcare system in serious disarray as a result of many Israelis having to pay out of their own pockets vs. private insurance coverage
•Dwindling resources among selected groups of Israelis due to skyrocketing housing costs.
The net effect of all this is a growing number of households with serious difficulties covering their monthly expenditures. This has impacted the children of these families, thousands of whom depend on the ITC to provide programs and other key social services. That is why donor support remains so vital to insure that these children can continue to come to our centers to get the help they need.
For this reason, the ITC scheduled special fundraising events in the following cities:
Washington, DC (Citi Open)* - Tuesday, August 4th
Westport, Connecticut - Sunday, August 16th
Pittsburgh, Pennsylvania - Wednesday, August 19th
North Haven, New York - Sunday, August 23rd
Youngstown, Ohio - Monday, August 24th
*A limited number of discounted tickets are currently available. To order, visit the Upcoming Events section of the ITC website at http://www.israeltenniscenters.org.
A diverse team of Israeli players and coaches will be flying to the U.S. to meet members of these communities who are interested in learning more about the important work of the Israel Tennis Centers. The ITC uses tennis as a tool to improve the lives of disadvantaged Israeli children of all backgrounds, providing them with essential life skills and values that will allow them to achieve to the best of their abilities. Just this year the ITC – Ofakim launched an English language conversation pilot program that enables underprivileged youth to receive tennis instruction in English on court, creating natural opportunities for the children to speak the language. This essential program will be expanded to other centers in the coming year to give more youth the advantage that English provides in a global economy.
Through its social impact programs, a wide range of children are served, including youth at risk, immigrants and children with special needs, from autism and ADHD to Down Syndrome as well as those with developmental and physical disabilities. Tennis also has the unparalleled ability to bring together children from different religions in coexistence programs, promoting understanding, cooperation and friendship on and off the court.
The Israeli players include Loui, a 10 year old Arab child who lives in Beit Safafa outside of Jerusalem. When Loui was just 6 years old he was invited to participate in the ITC's Coexistence Program at the Ben B. and Joyce E. Eisenberg Tennis Center in Jerusalem, a fortuitous event that changed his life. Since then, young Loui has become part of the ITC's High Performance group. He has also joined the ITC's National Team, travelling to Ramat Hasharon to practice and meet new friends from all over Israel.
For more information or to attend any of our exhibitions, contact ITC Development Director Yoni Yair at 954-480-6333 or yyair(at)israeltenniscenters(dot)org. Supporters are also encouraged to share this information with friends and family, inviting them to come out and meet these extraordinary young ambassadors.
About the Israel Tennis Centers Foundation:
The Israel Tennis Centers Foundation (ITC) is a 501 (c) 3 not-for-profit organization that works tirelessly through the medium of sport to enhance the development of Israeli youth. Since opening its first center in Ramat Hasharon in 1976, the ITC has helped over a half million children, many of whom come from outlying development towns throughout Israel. The ITC's 14 centers stretch from Kiryat Shmona on the Lebanese border in the North to Beer Sheva bordering the Negev Desert in the South. http://www.israeltenniscenters.org.
Contacts:
Jacqueline Glodstein
ITC Vice President/Global Development
646-884-7450
jglodstein(at)israeltenniscenters(dot)org
Richard Weber
ITC Global Director of Marketing
646-884-7410
rweber(at)israeltenniscenters(dot)org