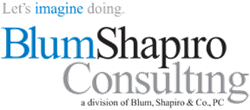 West Hartford, Connecticut (PRWEB) July 22, 2015
BlumShapiro, the largest New England-based business advisory firm, today announced the rebranding of its consulting services business into BlumShapiro Consulting, with office locations in Connecticut, Massachusetts and Rhode Island. This initiative enhances BlumShapiro's ability to bring integrated business solutions to all of its clients.
"BlumShapiro Consulting is a team of experienced thought leaders who address challenges and maximize opportunities for our clients," said Brian Renstrom, Managing Partner of BlumShapiro Consulting. "By working collaboratively with each client, we develop personalized, high quality solutions that increase their competitive advantage."
BlumShapiro Consulting, with its new tag line, "Let's imagine doing," provides strategic, operational and tactical expertise in management consulting, technology consulting, project and portfolio management, software and business process outsourcing and more. The BlumShapiro Consulting team works closely with clients to turn insightful assessments into innovative ideas and actionable strategies with measurable results.
"The rebranding of BlumShapiro Consulting reflects the growing needs of clients for a single source of advisors with the expertise and commitment to improve business performance," said Carl Johnson, BlumShapiro Firm Managing Partner. "BlumShapiro Consulting is a continuation of our mission to service all aspects of our clients' businesses."
For more information about BlumShapiro Consulting, visit http://www.imagineblum.com
# # #
BlumShapiro is the largest regional business advisory firm based in New England, with offices in Connecticut, Massachusetts and Rhode Island. The firm, with nearly 400 professionals and staff, offers a diversity of services which includes auditing, accounting, tax and business advisory services. In addition, BlumShapiro provides a variety of specialized consulting services such as succession and estate planning, business technology services, employee benefit plan audits and litigation support and valuation. The firm serves a wide range of privately held companies, government and non-profit organizations and provides non-audit services for publicly traded companies.