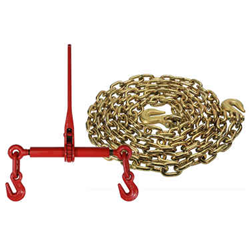 "We do the work for you by selecting the best combinations of equipment based on your needs."
Urbana, Iowa (PRWEB) July 21, 2015
US Cargo Control is now offering transport chain and binder packages.
The company, a leading supplier of cargo control equipment for the trucking and transportation industry, is now offering 45 different combinations of kits. Each package includes a chain and binder, varying by grade, size and style.
"Our kits make it simple," US Cargo Control Director of Business Development Tim Sanders said. "We do the work for you by selecting the best combinations of equipment based on your needs."
In addition to the package offerings, US Cargo Control also created a new webpage designed specifically to showcase more powerful chain offerings, including grades 80, 100 and 120.
"We want to make sure our customers know all of their options when deciding how to best outfit their truck and trailer," Sanders said. "With this chain they can secure more with less."
The company also made improvements to its transport chain and binder webpage, including a new design and layout that better communicates product offerings, sizing and pricing.
"The website is designed with convenience in mind," Sanders said. "The web upgrades are just another example of how US Cargo Control is dedicated to getting its customers what they want, when they need it."
All US Cargo Control chain is made to the specifications of the National Association of Chain Manufactures, or NACM. USCC chain can be customized and cut to specification. Sales specialists are available to answer questions, receive orders and provide information on volume pricing. Free shipping is available on orders of $2,000 or more.
###
About US Cargo Control
US Cargo Control is a leader in the cargo control industry, specializing in lifting slings, cargo control, rigging equipment and moving supplies. Focused on offering quality products, timely delivery, and an excellent customer experience, customers can purchase products on the company's website, USCargoControl.com or by phone at 866-444-9990.