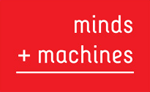 (PRWEB) July 21, 2015
"Minds and Machines" was featured on NewsWatch as part of its monthly Biz Report, which takes a look small, medium, and large businesses making an impact in their industry. Andrew Tropeano, the host of NewsWatch and business expert, conducted the business review and shared with viewers how top level domains are changing the way the internet is addressed.
Right now the Internet is undergoing a massive change when it comes to domain names. Thousands of new top level domains, also known as TLDs or the last portion of a domain name, are changing the way the internet is addressed. While most people only know of .coms, there are more relevant and affordable options for a website domain.
Today, people can choose from hundreds of different endings resulting in an amazing choice of new website and email names for people and brands. These are intuitive for the end user, they'll result in a better user experience, and it's cheaper.
There are a few major players in the GLTD business – some of the biggest being Minds and Machines, Google and Amazon. Not only do Minds and Machines own and operate 34 TLDs like .fashion and .law, but they also use them in innovative ways. They recently partnered with bloggers and brands to take the Coachella experience online for the world of fashion with blogchella.fashion.
For people interested in finding a new domain, just go to a registrar like GoDaddy, NameCheap, and Minds and Machines to search for the right name and ending.
To learn more, visit http://www.mindsandmachines.com today.
About NewsWatch
NewsWatch is a weekly 30-minute consumer oriented television show that airs on the Discovery Channel and ION Network. NewsWatch regularly features top technology products and services, mobile applications for iOS, Android, and Windows devices, unique and beautiful travel destinations around the world, health and medical tips, and entertainment interviews on the show. NewsWatch airs on the Discovery Channel at 7:00 – 7:30 AM ET/PT.
NewsWatch is located in the greater Washington, DC area and has been on air for over 25 years. For more information or to watch the most recent episode, visit http://newswatchtv.com/biz-report.html.