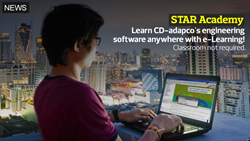 STAR Academy provides users with the knowledge required to make valuable engineering contributions to their customers as well as their organizations.
New York, NY and London, UK (PRWEB UK) 21 July 2015
CD-adapco, the largest privately held CFD-focused provider of Computer Aided Engineering software, announced today the launch of STAR Academy, its innovative in-classroom and online training platform to help customers learn how to use CD-adapco simulation software in their CAE multidisciplinary engineering activities. STAR Academy can be accessed through the Steve Portal, CD-adapco's online support environment.
STAR Academy is a revolutionary new online educational environment that allows engineers to master the use of CD-adapco's products from the comfort of their desks. STAR Academy offers expanded educational delivery options including e-learning and STAR-Lab technical skill development that provide users with learning opportunities to more fully understand CD-adapco software products. The innovative approach to training also incorporates the "Flipped" classroom model as a fundamental part of the learning process. This initial release of STAR Academy will focus on its most popular component, the e-learning modules which can be completed at each individual user's pace and can be scheduled before or after instructor-led training sessions.
"We are preparing CD-adapco customers to not only be more successful with CD-adapco products, but increase their knowledge and application of multidisciplinary simulation in their day-to-day work," said Aaron Bird, Ph.D., CD-adapco Senior Training & Instructional Design Manager. "Our program will progress users through the steps to take them from functional users of the software to expert champions of all CD-adapco products."
STAR Academy provides users with the knowledge required to make valuable engineering contributions to their customers as well as their organizations. Through STAR Academy, users are afforded the opportunity to engage in mastery learning of key concepts and skills to effectively conduct advanced multiphysics and multidisciplinary simulations.
Users can purchase and register for their courses in STAR Academy, and then in a single account gain access to the e-learning modules, the training materials and other details about the courses. Customers can measure their competency in using CD-adapco products and can monitor their own progress toward becoming an expert-level user.
About CD-adapco
CD-adapco (http://www.cd-adapco.com) is the world's largest independent CFD-focused CAE provider. Our core products are the technology-leading simulation packages, STAR-CCM+ and STAR-CD. The scope of our activities, however, extends well beyond CFD software development to encompass a wide range of CAE engineering services in fluid dynamics, heat transfer and structural engineering. Our ongoing mission is to "inspire innovation and reduce costs through the application of engineering simulation software and services."
A privately owned company, CD-adapco has maintained 15% organic year-on-year growth over the last 5 years. CD-adapco employs 900 talented individuals, working at 40 different offices across the globe.
Press Contact
Todd Mavreles, CD-adapco
todd(dot)mavreles(at)cd-adapco(dot)com
(+1) 713 334 4311