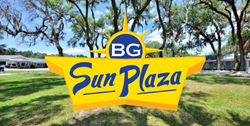 "We are thrilled and honored to be a major force in helping restore one of the most beautiful regions and ecotourism destinations in north central Florida," said Genovese
Silver Springs, Florida (PRWEB) July 20, 2015
Adding to a growing portfolio of restored Marion County, Florida recreation and hospitality landmarks, Bobby Genovese' s BG Capital Group is celebrating the Grand Opening of his newly renovated BG Sun Plaza on Wednesday, July 22, 2015 at 4:30 pm as the area's premier boutique accommodation and gateway to Silver Springs' top ecotourism attractions.
Following an ambitious six-month renovation and rebranding, the newly designed 50-room Sun Plaza features a polished Palm Springs vibe and unique guest experience that includes top-of-the-line furnishings and linens, flat screen televisions, complimentary continental breakfast, fitness room, business center with free WiFi, and seasonal outdoor swimming pool.
"We are thrilled and honored to be a major force in helping restore one of the most beautiful regions and ecotourism destinations in north central Florida," said Genovese of his commitment to growing the area's recreation and hospitality offerings.
"It is an honor and a privilege to give this very special landmark new life and Silver Springs' ecotourism visitors a totally unique and polished guest experience. It was a natural next step once we helped revive the recreation and food concessions at Silver Springs and Wild Waters and introduced year-round trail riding on the Florida Greenway through our partnership with BG Trail Rides and the Florida Horse Park. Combined, these venues give area visitors a phenomenal ecotourism experience unlike any other."
The Grand Opening ceremony and ribbon cutting will be held at BG Sun Plaza, 5461 East Silver Springs Blvd., Silver Springs FL 34488; 352-236-2343. RSVP at: events(at)silversprings.com
BG Sun Plaza
5461 East Silver Springs Blvd., Silver Springs FL 34488
352-236-2343
http://www.bgsunplaza.com
Reservations(at)bgsunplaza.com
About BG Capital Group
With more than 25 years of experience in mergers and acquisition.
BG Capital Group Limited and BG Capital Management Corporation are both based in Barbados with associate management offices in the Bahamas, Fort Lauderdale and Boca Raton, Florida, Los Angeles, Toronto and Vancouver.
In 2013, Genovese developed and launched BG Signature, a portfolio of 12 exclusive luxury retreats in the US, Canada, Europe, South America and Bahamas, including its flagship property, BG Polo & Equestrian Resort in Ocala, Florida, a 100-acre, year-round luxury equestrian retreat featuring world-class stables and lodging for traveling horse enthusiasts. A fleet of private yachts, private jet and four polo and equestrian clubs complete the collection.