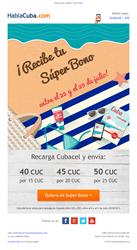 Acabo de recibir saldo extra por mis puntos de lealtad! Esto sumado al excelente 24H de servicio al cliente, el precio aceptable y las promociones que tienen, la super facil forma de hacer los pagos y la seguridad. (Milio Varona on G+)
Atlanta, Georgia (PRWEB) July 22, 2015
HablaCuba.com hosts the best promotion ever on top ups to mobiles in Cuba for all Cuban expats worldwide. If Doble Bono was the favorite offer so far, and the best deal on the market, this new offer is the Jackpot. The Cubacel bonus goes up to 25 free extra CUC on any top up of a mobile in Cuba. The offer is available between July 22 and July 29 for a minimum order of $15 and a maximum of $25. For all Cuban expats interested, here is the online form that needs to be filled in, without any contract: http://hablacuba.com/buy/mobile_recharge
During this new promotion, one can choose any of these 3 top up possibilities to send mobile credit to Cuba:

For a $15 top up, the person in Cuba gets 40 CUC
For a $20 top up, the person in Cuba received 45 CUC
For a $25 top up, the person in Cuba receives 50 CUC.
In addition to this offer, HablaCuba.com applies an extra bonus for each mobile recharge. Customers receive Thank You points for each mobile refill they make. When an HablaCuba.com customer reaches 1000 Thank You points, he or she can convert them into $10 credit for international calls to Cuba or any other destination in the world. More details are available on HablaCuba.com, the Thank You points section.
Another advantage of the current 25 CUC promotion is the expansion of the promotional period. The current offer will last for 7 days, unlike the regular Doble Bono which was active for 4 days. It is not only the best in the Cubacel top up history in terms of value, but also in terms of time. The offer will help Cuban expats:

save money on international airtime
support their family and friends back in Cuba
or just make a simple gift, fast and easy.
The 25 CUC mobile credit, as well as the initial amount ordered can be ordered in few seconds and get to the Cuban prepaid phone number instantly. Yet, the Bonus expires on August 31. It can be used according to the Terms & Conditions on HablaCuba.com: http://www.hablacuba.com/buy/mobile_recharge
The current 25 CUC offer is dedicated to both new customers, looking for an easier way to try the service, as well as the loyal ones. Most of the existing customers are Cuban expats. They confess having 2 good reasons to use the Mobile Recharge service on HablaCuba.com to support their relatives in Cuba:

It's faster and faster than money transfers
The money they send home is easier to control since it can only be used as mobile credit.
Thank You points are also awarded for any mobile recharge. They bring the sender a certain amount of points for future free calls to Cuba or any other long-distance destination. There is a special section in the online account where this information can be checked. When someone reaches 1000 Thank You points, he or she can convert the points into $10 balance for international calls to Cuba, without having to pay anything in return.
Once Thank you points turn into Voice Credit, they can be used for calling Cuba without paying a thing.
In order to make a call with HablaCuba.com, customers can choose from three different options available:

From any landline, mobile or even pay phone using access numbers.
From KeepCalling app for Android or iOS (no access numbers needed); once logged in the app, customers can use their phone Contacts list to call.
From any PC with Internet connection to any phone through the Web Call app available in customer's account.
Why thousands of hundreds of customers use HablaCuba.com:

It costs nothing to create an account
Top ups reach the destination instantly
It only takes few seconds to send a top up online
All major payment methods are accepted, no matter the currency
The website hosts the best deals for Mobile Recharges (in terms of price - mobile credit ratio)
There are regular promotions
The Voice Credit balance for international calls never expires
KeepCalling app is available for international calls
The website has high privacy protection (TRUSTe label)
Transactions are 100% secure (Verified & Secured certificate)
The service is transparent and there are no hidden fees (BBB accredited)
The Customer Support team is top notch; the service offers 100% Customer Satisfaction and 24/7 honest and friendly Support (BBB label)
Invoices and activity log are available at any time in the online account
The website is mobile friendly and can be visited from any device
About HablaCuba.com
HablaCuba.com is an interactive website designed by KeepCalling, a global telecommunications company registered in 2002 in USA. Presently, KeepCalling provides its services to hundreds of thousands of consumers and businesses, with a focus on customer satisfaction. KeepCalling has been listed by Inc 5000 in top 20 telecom companies in the USA for the last 4 years. Plus, in 2014 the company was named the 18th fastest growing company in the telecommunications industry in USA with a revenue increase of over 600% from 2010 to 2013.