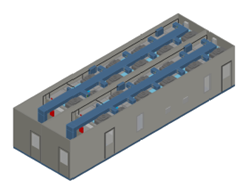 These new offerings will deliver optimal containment options for even more entities within our cell and gene therapy client base.
College Station, TX (PRWEB) July 29, 2015
G-CON Manufacturing, Inc., the leading prefabricated autonomous cleanroom POD® designer, manufacturer and supplier, announces the launch of their 2nd generation cell therapy POD® design. The 2nd generation portfolio not only delivers design improvements compared to the current miniPOD CT, but it also represents a new POD® design.
"G-CON first offered our miniPOD CT product line to serve the cell therapy industry. The CT line provided PODs® with unidirectional flow and corridor system included within the 9' and 12' wide configurations. We have expanded that line to include the miniPOD CTC and miniPOD CTO, which provide the same benefits but are available in lengths from 25' to 50'," Maik Jornitz, President of G-CON Manufacturing Inc. explains. "Detailed discussions with our cell therapy customer base revealed that additional lengths would augment our product portfolio. These new offerings will deliver optimal containment options for even more entities within our cell and gene therapy client base."
G-CON customers will also have the opportunity to implement any of their necessary equipment, for example isolators, into a 3D rendering utilizing G-CON's in house engineering resources. Such will allow G-CON and the customer to optimize material and personnel flow before construction begins. "We very clearly understand the need for flexibility in cleanroom and containment areas, for either a centralize production system or hospital based, in either allogeneic or autologous applications. Moreover, our miniPOD CT systems allow scaling and expansion without disrupting the existing processing, which would be detrimental for the patient base and the manufacturer alike."
With knowledge that cell therapeutic processes are the gold standard of aseptic processing, since terminal sterilization is often not an option, G-CON has designed these PODs® to be sanitized with either vaporized hydrogen peroxide or other means. "We have had three companies successfully run VHP cycles in our PODs®. These runs showed a six log reduction (full sterilization) in all areas of the cleanroom including the ductwork, which we see essential in proving a robust cycle," Jornitz states. "In addition, we are working together with equipment manufacturers to implement their processing tools into our PODs®, so cell therapy customer can see models we have and easily redline these to fit their own process. We have used this approach successfully with our bioprocess single-use unit operation PODs® and fill/finish PODs®. Designing an ideal POD® for a customer by using templates speeds up the delivery cycle, which is already a major benefit to choosing PODs® (15 week manufacturing period after completion of detailed design)."
G-CON is in the process of building miniPOD CTC and CTO cleanroom PODs® to be able to fulfill demand instantly, which is especially important in light of the major breakthroughs occurring in the CAR-T space. "We are not in the paper design phase any more. Very soon customers will be able to touch and feel the miniPODs in our inventory and witness firsthand the quality and robustness of the products."
About G-CON Manufacturing, Inc.
G-CON Manufacturing designs, produces and installs prefabricated, autonomous cleanroom PODs®. G-CON's cleanroom POD® portfolio encompasses a variety of different dimensions and purposes, from laboratory environments to personalized medicine and production process platforms. The POD® cleanroom units are unique, differentiated from traditional cleanroom structures by ease of scalability, mobility and the possibility of repurposing the PODs® once the production process reaches its lifecycle end. For more information, please visit the Company's website at http://www.gconbio.com.