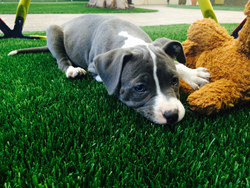 SuperZoo showcases the pet industry's best products and we are honored to be featured among them.
Las Vegas, NV (PRWEB) July 20, 2015
EasyTurf is scheduled to showcase their industry leading synthetic turf at the Las Vegas SuperZoo Convention beginning July 21st at the Mandalay Bay Convention Center.
SuperZoo, a pet retail expo organized by the World Pet Association, is expected to draw upwards of 20,000 attendees. The three-day event is designed to promote the newest and most innovative products in the industry, including pet-friendly EasyTurf.
"We are excited to be exhibiting at the 2015 SuperZoo convention for the second year running," said Dave Hartman, president and CEO of EasyTurf. "SuperZoo showcases the pet industry's best products and we are honored to be featured among them."
With its revolutionary drainage capabilities, EasyTurf artificial grass is the ideal choice for pet owners. The turf features a patented 100 percent permeable MaxxFlow backing that allows urine to drain quickly and thoroughly. EasyTurf is discoloration and stain resistant, making clean-up of dog messes quick and easy. Safe, non-toxic, and chemical-free, it is also durable enough to stand up to even the most challenging of pets while still soft enough for them to relax on. EasyTurf has been installed in dog parks, animal shelters, animal hospitals, pet resorts, and veterinary clinics throughout North America.
The EasyTurf booth at SuperZoo will feature products such as Go Mats and Grab and Go. Both products are available in three convenient sizes and are ideal for small projects and pets. Go Mat is a new product versatile enough for use in various applications. Portable Go Mats feature a bound edge and are lightweight enough to take anywhere, including the park, beach, and to sporting events. Grab and Go—exhibited at SuperZoo 2014—was designed for use in small-scale improvement projects such as kennels, dog runs, and lawns. Both products boast rinse-clean technology, making them perfect for pet use.
For more information on SuperZoo, please visit http://www.superzoo.org.