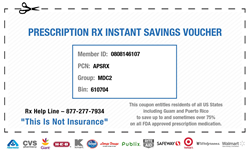 New York, NY (PRWEB) July 30, 2015
World Breast-Feeding Week (Aug. 1-7) was established to highlight the right and necessity for women to ensure their children have the nutrition required to grow into healthy adults. Medicationdiscountcard.com supports the healthy development of children from pre-birth by offering discount cards for many prescription pre-natal vitamins.
Folic Acid
Arguably one of the most important pre-natal vitamins, Folic Acid is essential to prevent neural tube birth defects. Such defects usually occur within the first 28 days after conception, so it is important to begin taking this B vitamin as early as possible in the pregnancy. Anyone may print a Folic Acid coupon from Medicationdiscountcard.com to use with her prescription.
Calcium
Calcium is used to supplement the pregnant mother's own body supply, as well as ensure that the growing fetus develops healthy bones and teeth. The fetus also uses the calcium for the development of a heart, muscles and nerves. Without enough calcium, a growing fetus may be forced to use the pregnant mother's calcium, leading to adverse health effects later for the mother. Using a Calcium Citrate discount card or a Citranatal Assure coupon has saved consumers up to 75% on the costs of this prescription at the pharmacy.
Pre-Natal Multivitamins
Many pediatricians prescribe pre-natal multivitamins to cover most of the nutritional needs of the growing fetus and mother in one, convenient source. In addition to calcium and folic acid, these multivitamins often provide recommended daily allowances of other essentials, like iron, iodine and fatty acids.
Iron is an important mineral during pregnancy for many reasons. Primarily it is used to help form hemoglobin (protein) in the blood. A pregnant woman has an increased blood supply and the body needs more hemoglobin to maintain this level. Iron is also used to grow and maintain the placenta. Low levels of iron can lead to certain types of anemia and may contribute to low birth weight as well as early delivery.
Iodine deficiency in the United States is unusual, but iodine is crucial to the regulation of a healthy thyroid gland. The thyroid is important to ensure that a pregnant woman's metabolism is functioning properly. In addition, iodine is used by the growing fetus to develop a healthy nervous system and brain. Lack of enough iodine can lead to early delivery, miscarriage or stillbirth.
Fatty acids (DHA and EPA) are used by the growing fetus to develop healthy eye, brain and nervous-system tissues. Many pre-natal vitamins still do not contain supplementary levels of fatty acids, so it is important to speak to a pediatrician about good, nutritional sources of these acids. Printing a free Citralnatal 90 Dha coupon or Citralnatal Dha discount card defray some of the costs associated with these prescriptions.
Most recognized health organizations now acknowledge that breast-feeding provides the ideal nutrition for a newborn. The time before the baby is born, however, is just as important to a healthy infant's nutritional needs. Speak to a pediatrician about the possible benefits of pre-natal vitamins and minerals.
Note: The information above is intended to supplement, not substitute for, the expertise and judgment of your physician, pharmacist or other healthcare professional. It should not be construed to indicate that use of the drug is safe, appropriate, or effective for you. Consult your healthcare professional before using this drug.
About Medicationdiscountcard.com
Medicationdiscountcard.com was started to provide discounts on prescription drugs to those who need it most. Our goal is to provide you with the largest savings possible when compared to other cards. We invite you to compare the savings our card will provide to that of other leading providers.