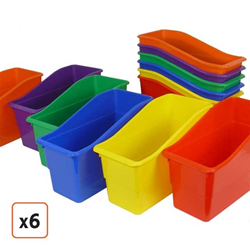 "Our pricing and free shipping will help teachers avoid a trip to a big-box store and spare them the hassle of carrying the containers out to their car as well."
Urbana, Iowa (PRWEB) July 29, 2015
Online retailer JustPlasticBoxes.com is ready for the new school year.
The e-commerce site sells plastic storage containers in case, bulk quantities with a 'Buy More, Save More' pricing structure. Shipping is also free on all orders. The site's sales structure makes it easy and affordable for teachers and daycare providers to stock up on bins and containers to organize their classrooms ahead of the new school year.
"Ordering from us is easy and convenient," Product Manager Tammy Karr said. "Our pricing and free shipping will help teachers avoid a trip to a big-box store and spare them the hassle of carrying the containers out to their car as well."
Popular back-to-school products include book baskets and book bins. JustPlasticBoxes.com offers a variety of shapes and styles for optimal organization. Multiple colors are available to separate the books based on reading level, subject or class period. The book baskets also feature built-in handles making them easy to carry them from room to room throughout the school building.
Plastic crates are another great option for books and supplies. The crates are sturdy, stackable and easy to carry. They can also be used as a portable filing system.
JustPlasticBoxes.com also offers large, plastic totes with snap-on dry erase labels. These large boxes are also easy to stack and are commonly used to store and organize toys, books and games. Each box comes with two brightly colored labels.
JustPlasticBoxes.com is able to offer deep discounts because the containers come pre-packaged in bulk quantities. Further savings are available with the purchase of additional packs. Charts on each product page detail the amount of savings based on the number of packages purchased.
Single quantities are available by calling a sales representative toll free at 800-736-0651.
###
About JustPlasticBoxes.com
JustPlasticBoxes is owned by Clickstop, Inc., a company that owns several niche brands. Websites under the Clickstop company umbrella also include SpaceSavers.com, USCargoControl.com and EcoFoil.com. With strong vendor relationships from Clickstop's large e-commerce presence, JustPlasticBoxes is proud to offer high quality brand name plastic storage boxes at value prices with free delivery.