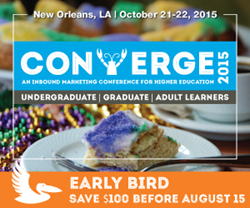 CollegeWeekLive is looking forward to meeting new colleagues and collaborating on the latest marketing initiatives at Converge 2015.
Cedar Rapids, IA (PRWEB) July 21, 2015
Converge Consulting announces two sponsors for its upcoming higher education inbound marketing conference, Converge 2015. CollegeWeekLive and Burning Glass Technologies join the list of higher education marketing vendors sponsoring the conference, which will take place in New Orleans, Louisiana, on October 21–22.
CollegeWeekLive helps students with their college search. One in three college-bound students use the site to navigate the college admissions process and find the best college match.
"CollegeWeekLive is excited to sponsor Converge 2015 for the first time this year," said CollegeWeekLive Vice President of Marketing, Melissa King. "We're looking forward to meeting new colleagues and collaborating on the latest marketing initiatives with our peers."
CollegeWeekLive will present its latest research project, conducted in partnership with Eduventures, during the conference. The company will also share engagement tools used by college-seeking students when deciding where to enroll.
"As students continue to apply to more and more schools, it will be important to evaluate engagement to determine real interest and ultimate enrollments," said King.
Burning Glass provides the world's leading technologies for matching people with jobs. The company's powerful job aggregation data informs academic program validity in the marketplace, future job trends, and how colleges can use that information to increase enrollment.
"We chose to sponsor Converge again because of the wonderful, innovative relationships we built last year," said Kelly Bailey, director of partnerships and alliances at Burning Glass.
Burning Glass will present with a partner university at Converge 2015 on how to effectively leverage data when marketing to prospective students.
"Parents and students are more focused on degree ROI than ever before. Many schools have started to explore and apply targeted marketing efforts to prospective students, but use of real-time labor market data to create these messages is still not widely recognized," said Bailey.
For information about the conference and its sponsors, visit the Converge 2015 website.
Converge Consulting is a higher education inbound marketing firm with offices in Cedar Rapids, Iowa, Denver, Colorado, and Manhattan Beach, California. Converge uses what's new and next in content strategy, search engine optimization, digital advertising, web analytics, and visual storytelling to positively impact student recruitment and alumni engagement for colleges and universities around the world.